Girls!
Who will take better care of your hair if not you?
Well, NOBODY, and that's why you have to take matters into your own hands.
But … to do it by the book, you need a little helper or assistant – a beauty product that will strengthen, moisturize, nourish and protect your hair.
And from my own experience I can tell you that a decent hair mask has no equal in this task.
Why isn't it a conditioner, plant oil or some other fancy beauty product?
Hair mask is the only product (among all hair cosmetics, ofc) offering such strong effects. Its characteristic feature is that it doesn't only work on the surface of the hair but it also penetrates into the shaft, meaning that it delivers significantly better results when compared to regular hair care products.
My suggestion for you is to try some of my top 6 hair masks below and see for yourself what you can achieve with a little help given by a good cosmetic.
Go on reading and … may healthy and full-looking hair be yours!
6 FIRST-RATE HAIR MASKS
1.

Nanoil Keratin Hair Mask
The best of the best – my absolute number 1 among all hair masks that I've ever used.
Keratin hair mask offers a massive support in the day-to-day damaged hair care. Its task is to combat brittleness, dryness and dullness. It also does wonders with split ends and frizzy hair.
Nanoil Keratin Hair Mask improves the appearance of hair the first time you put it on, which is something I love this product for. It leaves strands smooth, glossy and easy to comb.
It does it all thanks to the hydrolyzed keratin teamed with panthenol and provitamin B5.
Nanoil Keratin Hair Mask is lightweight, spreads evenly along the lengths and is easy to remove fully, so you don't have to worry about getting your hair stripped off volume.
Learn more: www.nanoil.us
2.

Moroccanoil Restorative Hair Mask
I'm sure that everyone has heard about this world-famous Moroccanoil brand – choosing their restorative mask to get stronger hair isn't a bad choice either. This product deserves a place among the top 10 hair masks.
This is a deeply regenerating hair product formulated with argan oil (typical for Moroccanoil products) and proteins that are found essential for strong and healthy-looking hair. The formula is also enriched with pequi oil and shea butter.
Since this product has a creamy and fairly dense texture, it weighs hair down quite well.
You need to apply Moroccanoil Restorative Hair Mask regularly because this is the only way it'll regenerate and strengthen weak wisps, bringing back their flexibility, smoothness and shine.
The only drawback that I can think of is the high price…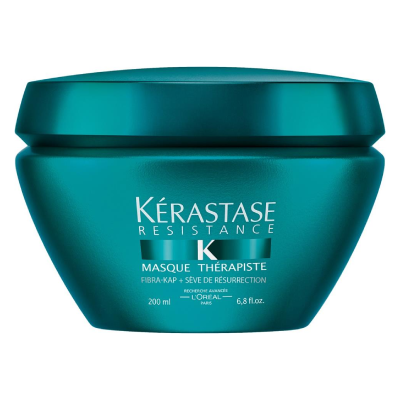 3.

Kérastase Résistance Masque Thérapiste
What brand is famous for launching and offering a wide range of the finest hair products?
I'm sure you agree with me saying that Kerastase is a brand that can be found in various hairdressing salons, which is a good sign. I like Résistance regenerating hair masks sold in the green packaging – it makes my hair super smooth and sleek.
I used it after hair washing because it helped me detangle the knots. It has a texture of a lightweight cream, so its application doesn't pose a problem at all.
Kérastase Résistance Masque Thérapiste is made up of plant extracts, glycopeptides, amino acids and wheat proteins, which is a blend of deeply regenerating and repairing ingredients. It's highly effective, yet to me it resembles a delayed ignition bomb. Haha, why did I use such a comparison? Because it takes at least 2 weeks of regular use to see some improvement.
To sum up, this hair mask is worth recommending, provided that you're patient.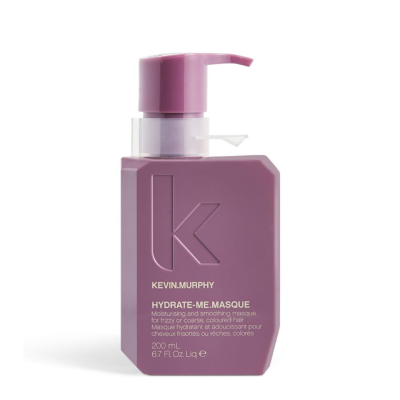 4.

Kevin Murphy Hydrate Me Masque
You can't just pass this product by without not noticing it – to me, it has the most intriguing packaging out of all hair masks. A purple angular bottle with a pump – this is one of the things that make Kevin Murphy Hydrate Me mask so widely-recognizable.
What's inside this amazingly designed bottle? Plenty of ingredients!
Rosehip oil and vitamin C are in charge of boosting hair shine and elasticity. Evening primrose oil replenishes hair with water, thus making it softer. Shea butter deals with brittleness and splitting. Bergamot oil works as an antioxidant. Seaweed extract hydrates and balances the scalp. As you can see, each ingredient is given an important task to handle.
And you can feel all of this immediately after putting Kevin Murphy Hydrate Me Masque on the strands.
I totally recommend this product to those of you who have dry, rough and weak hair.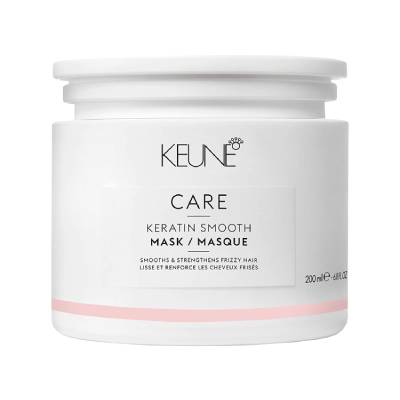 5.

Keune Care Keratin Smooth Mask
Let me present to you another keratin hair mask that – in my opinion – is worth knowing.
Keune is – if I'm not mistaken – a Dutch brand launching superb hair care products. It's mainly known for its coloring cosmetics.
Surprisingly, Keune Care Keratin Smooth hair mask seems to be just a regular hair care product. It's good at moisturizing the hair, smoothing out and preventing frizz, which for me appeared to be the salvation I was looking for at that time. I had a hard time taming my unruly hair.
This effect is owed to the ingredients such as keratin, provitamin B5 and shea butter. This mask also contains this so-called Quat complex which is marketed for being able to strengthen the hair shaft from the inside.
When it comes to application, it's far from being troublesome. Just apply the Keune Care Keratin Smooth mask to your hair after shampooing, let it do its magic for 2 minutes and rinse.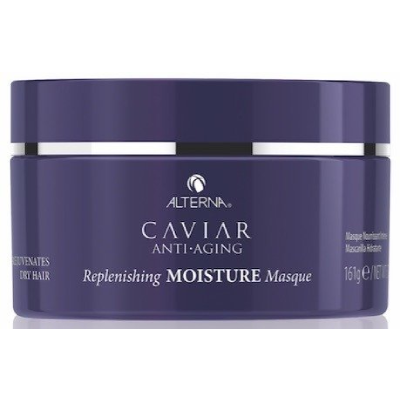 6.

Alterna Caviar Replenishing Moisture Masque
Some time ago I also had the pleasure of using Alterna Caviar Replenishing Moisture Masque. Even though it was a long time ago, I remember that I was positively surprised at the effects it produced on my mane.
And luckily it gave me the promised results because I had spent my last savings on it!
The mask is hideously expensive, that's a fact, you can't argue with that. Another fact is that it's sold in terribly small packaging.
Nevertheless, if the price doesn't scare you off, I totally recommend this hair mask because it's one of the few containing caviar extract. It has a rejuvenating effect, counteracts premature aging of the hair and delivers moisture. Naturally, there are more ingredients, including for example the one preventing color fading.
To me, Alterna Caviar hair mask seems to be simply a luxurious hair care product for those who need a little more than others.