Dear readers!
Brow lamination at home? Yes, it is possible! And it can make life so much easier. Until now, I used to go to a beautician for eyebrow lamination treatment, but as it turns out, the one at home is much cheaper and also delivers the desired results. Which brow lamination kit to choose for home use? I recommend this brow-lift kit – Nanobrow Lamination Kit. It contains everything I need to do brow lamination by myself. Keep reading to find out more.
What's the best kit for eyebrow lamination at home?
This practical kit for eyebrow lift and lamination Nanobrow Lamination Kit contains 3 numbered solutions and precise instructions. Even the untrained can easily master eyebrow lamination at home 🙂 It contains simply everything we need to perform the treatment ourselves. The effects last for 4-6 weeks, so it's really worth it!
The price is attractive considering the great quality. The efficient bottles are enough for 11 individual treatments, which ensures huge savings. The whole treatment does not take much time, which is why I prefer brow lamination at home to the one done at the beauty salon. But, of course, it's a matter of personal preferences.
Eyebrow lamination is a perfect treatment for owners of unruly and thin eyebrows who finds it difficult to give them the right shape. Mine are exactly like that, and their daily styling used to be a bane of mine. Until I finally came across Nanobrow Lamination Kit for an at-home brow lamination. I've already had three lamination treatments, each of which lasted for at least 5 weeks. My eyebrows look much fuller, defined, and visually more beautiful.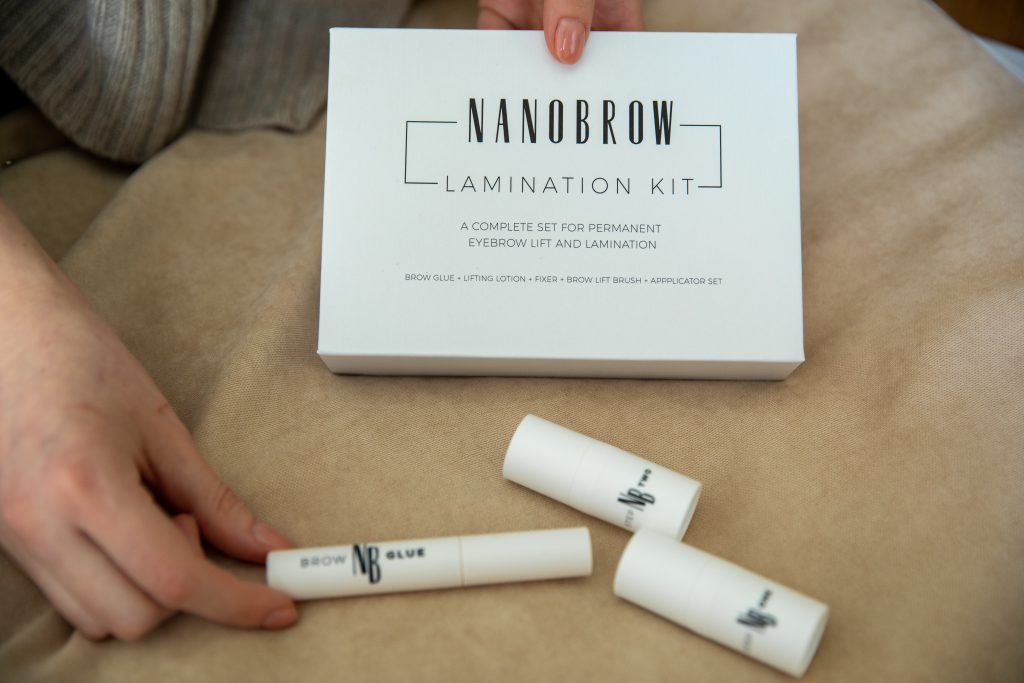 The Nanobrow's lamination and brow lift kit – rating and review
The complete Nanobrow brow lift and lamination kit give eyebrows your dream shape, perfectly styles brow hairs, and makes the eyebrows look filled in, thicker, and naturally shiny. For me, there is no better way to improve the condition and appearance of eyebrows 🙂 This is a very good kit for both at-home eyebrow lamination and salon use. Both consumers and professional beauticians reach for it eagerly.
The Nanobrow brow lamination kit is a lifesaver for my thin and weak eyebrows. The products are well-formulated and suitable even for sensitive skin. Eyebrow lamination at home has never been so easy! Brow lamination is a savior for all brow types, especially unruly ones that tend to stick out in different directions.
I complete my brow lamination treatment at home with brow tinting. Of course, you don't have to do this, but if your eyebrows are barely-visible, it's a great complement. You can also try brow tint and tweeze your brows beforehand. Nanobrow Lamination Kit for at-home brow lamination is very easy to use, features a precisely composed formula, and receives excellent online reviews.
Laminate your eyebrows easily at home with Nanobrow Lamination Kit
The professional Nanobrow Lamination Kit is super easy to use. I'm sure you can handle it too. Even the first time I was surprised at how easy it is 🙂 How do I do it? How do I apply the Nanobrow brow lift kit? How to perform the brow lamination treatment step by step?
Brow lamination at home step by step:
I remove my makeup thoroughly. You need an oil-free makeup remover! Remember that the brows must be free of any oily residue.
I apply a small amount of brow glue with a convenient applicator. I wait about 35 seconds (the waiting time varies between 25-50 seconds, depending on the susceptibility of your eyebrows).
I take the included brush and apply the brow-lifting product (all the bottles are labeled, so don't worry!). I apply it starting from the inner edge of my eyebrows and style the brows in the desired direction.
I leave the product on for about 6 minutes (it can be up to 8 if your eyebrows are not too prone). I wipe it off with a dry cotton pad.
I apply the last product on my eyebrows and shape my brow hairs in the right direction. I leave it on for about 6 minutes (it depends on your brow type). I wipe it off with a moistened cotton pad.
I brush my eyebrows with a spoolie and… I can enjoy phenomenal eyebrows for about 5 weeks!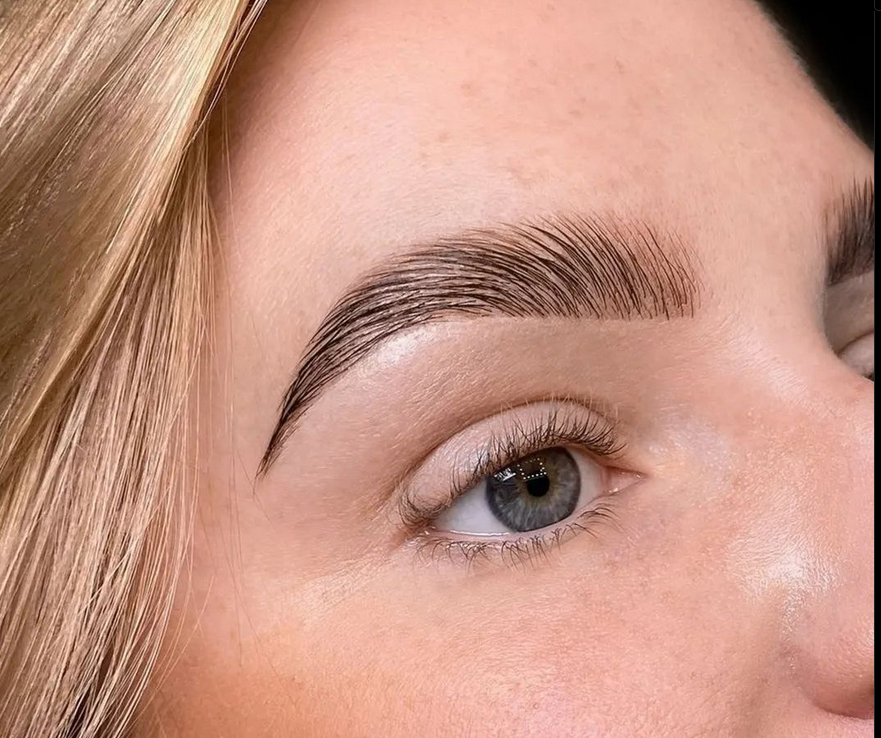 Where to buy Nanobrow Lamination Kit?
Sephora should have Nanobrow Lamination Kit on offer. You can also find this brow lift kit in other beauty chain stores and at www.nanobrow.us.
I hope you enjoyed the post and that you'll like laminating your brows at home. Try the Nanobrow brow lift kit on your eyebrows and see how beautiful they can look!
PS Now I just brush through my brows with a spoolie. That's all 🙂