Microblading is a special semi-permanent brow makeup technique that aims to give eyebrows a natural and defined look. In this process, small, precise incisions are made in the skin using a special tool with a fine needle. The pigment is then inserted under the skin through the incisions. The end result is long-lasting and natural. However, did you know that you don't have to opt for such an invasive and painful procedure? All you have to do is get yourself a microblading brow pen, which can give you exactly the same results. If something doesn't work though, just reach for a makeup remover and start over! Check out the ranking of the best eyebrow pens and see how beautiful your eyebrows can look.
Eyebrow pen – how to use it?
Eyebrow makeup with a pen is not that difficult. You just need to gain a little practice, and after just a few attempts, you can become your best brow artist. Check out my tutorial on how to use a brow pen step by step and discover how easy it can be!
Make sure your eyebrows are clean and dry. Clean them with an oil-free product to create the perfect base for styling them.
Choose a precision brow pen in a shade that matches your brow color. If you're not sure which shade to choose, go for one that is slightly lighter than your eyebrows to avoid an overdrawn effect.
Define your top and bottom brow lines using the pen. You can gently draw short, light lines that mimic natural eyebrow hairs. Remember not to press the pen too hard to avoid a cartoonish result.
If you want a more intense look for your eyebrows, gradually add more hair-like strokes with the pen, increasing the intensity. Remember to keep a balance and not overdo it with too much product.
Once you have finished applying the eyebrow pen, lightly brush through your eyebrows with a spoolie to distribute the pigment evenly and give your arches a natural look.
Remember that practice makes perfect! Experiment and adjust the technique to your preferences.
EYEBROW PEN RANKING. How to choose the best eyebrow pen?
1. Nanobrow Microblading Pen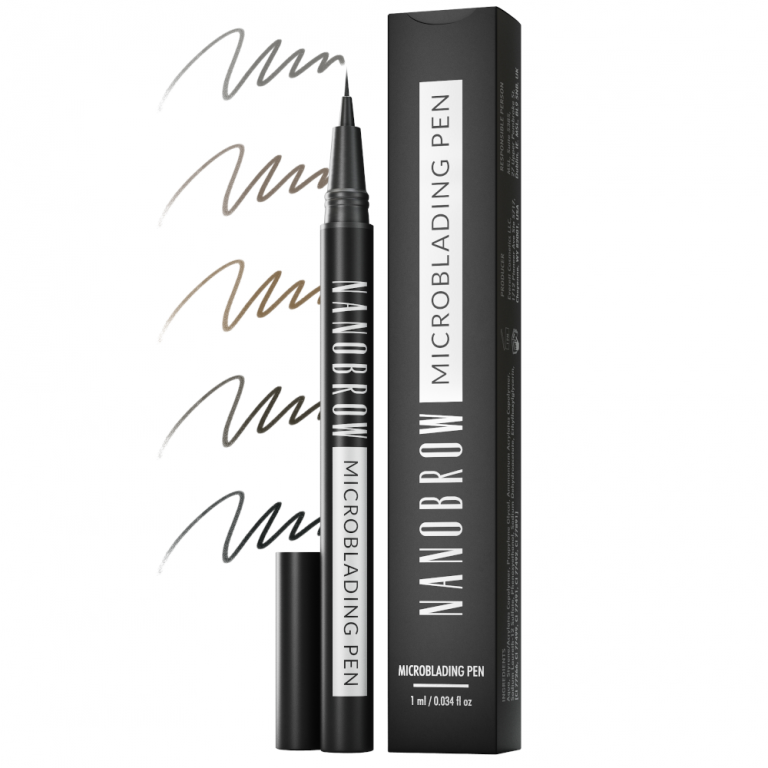 Where to buy it: www.nanobrow.us, marketplace platforms, online and regular beauty stores
Price: encouraging, affordable
Reviews: receives great online reviews, female users praise it
This precision brow pen with a microblading effect creates phenomenal eyebrow makeup for any occasion. The feather-thin tip draws lines that mimic real brow hairs, creating a three-dimensional effect. The waterproof brow pen fills in gaps and sparse areas where needed, and you don't have to do any touch-ups during the day. This is a professional eyebrow pen for both everyday wear and special occasions, where durability and precision are essential. This eyebrow pen always ensures natural makeup effects. In addition, it comes in 5 neutral shades to suit every woman. You get a microbladed brow effect without leaving home!
2. Diego dalla Palma Microblading Eyebrow Pen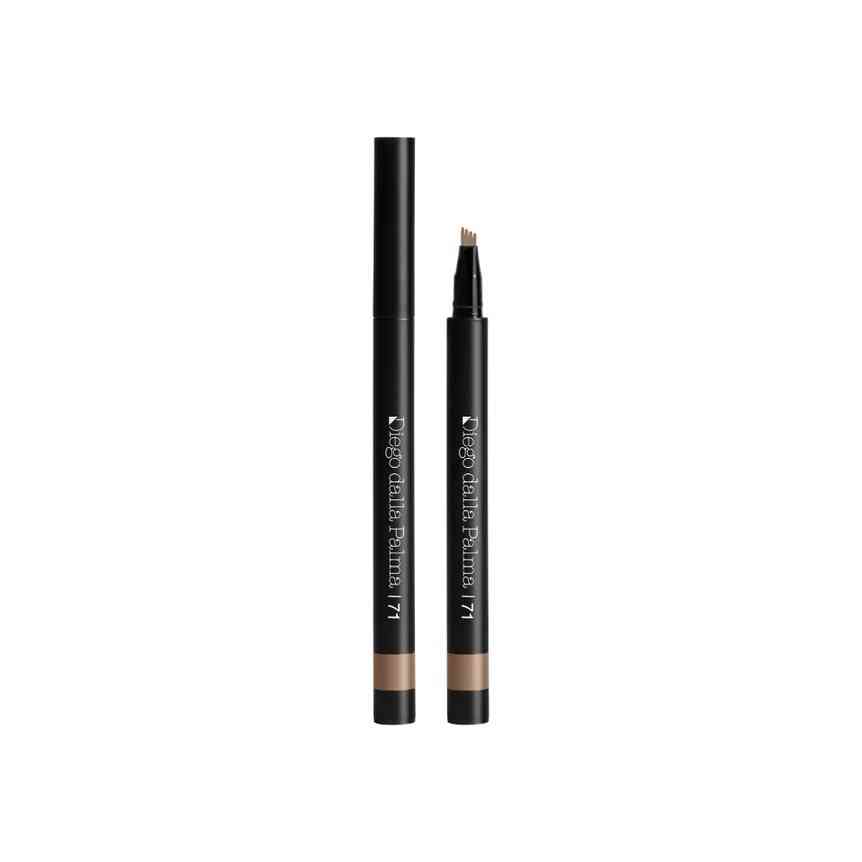 Where to buy it: online and regular beauty stores, marketplace platforms
Price: good, not overpriced
Reviews: gets good reviews among its users, but women with thin eyebrows complain about the inconvenient applicator
A brow pen with a microblading effect. It quickly and professionally defines challenging eyebrows, filling them in with a lovely color. Many users complain about the inconvenient three-tooth applicator, which unfortunately does not work for women with thin and sparse eyebrows. It is easy to create a grotesque, overdrawn effect. For thick eyebrows, this microblading brow pen works well. It covers up the gaps and sparse areas, creating multi-dimensional eyebrow makeup effects. It creates fine lines that work best for everyday wear. For special occasions, on the other hand, the pigmentation may be too weak.
3. Mac, Shape & Shade Brow Tint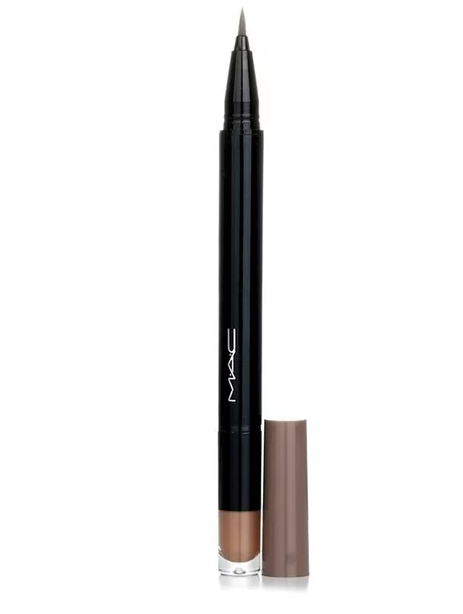 Where to buy it: available online and in-store
Price: average for this quality and efficiency
Reviews: enjoys positive feedback, but many female users complain about the product's average durability
This eyebrow pen is a versatile tool for defining and filling in the brows with color. It provides natural results, gives brows volume, and fills in the gaps with a lovely color. Unfortunately, it won't work for special occasions, as users complain about the product's questionable durability. It can smudge on contact with water or sweat. Even though it's a waterproof eyebrow pen, users complain that they have to do numerous touch-ups throughout the day. The brow pen comes with a sponge on one end to blend the color. The liquid pen can be problematic for beginners though.
4. Milk Makeup Kush Triple Brow Pen
Where to buy it: you can find it online and in-store
Price: average considering its quality
Reviews: gets good online reviews, but doesn't work well for owners of thin eyebrows
A long-lasting eyebrow pen with a three-prong applicator. Many women complain that the tip is not suitable for thin eyebrows, while on thick eyebrows, it nicely camouflages sparse areas and gaps. It is lightly pigmented, so it won't work for you if you like bold and expressive brow makeup. In addition, it may be just too weak for special occasions. You can find the precision eyebrow pen in several natural shades to match your features. It is definitely not an efficient brow makeup pen as it runs out quickly.
5. Benefit Cosmetics Brow Microfilling Pen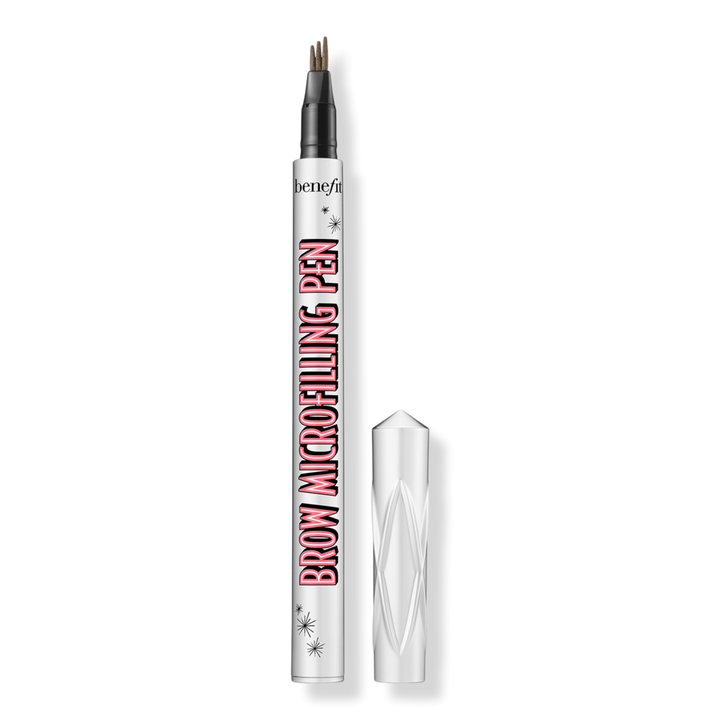 Where to buy it: online and in-store
Price: huge, not encouraging to buy it
Reviews: receives positive online reviews and comments
A popular eyebrow pen that is appreciated worldwide. Unfortunately, it costs a fortune considering its quality and efficiency. You can find it in four natural shades to suit everyone. This waterproof eyebrow pen works well for special occasions, while for everyday wear it may be too intense. It comes with a three-prong applicator that is so thin it adapts to all types of eyebrows. The precise eyebrow-styling pen fills in the gaps wherever needed and creates a natural effect in makeup. The long-wear eyebrow pen provides a 24-hour microbladed brow effect. This is not a high-performance eyebrow pen, so if you want the product to stay with you for a long time, you'd better choose another one.
6. Stila Stay All Day Waterproof Brow Color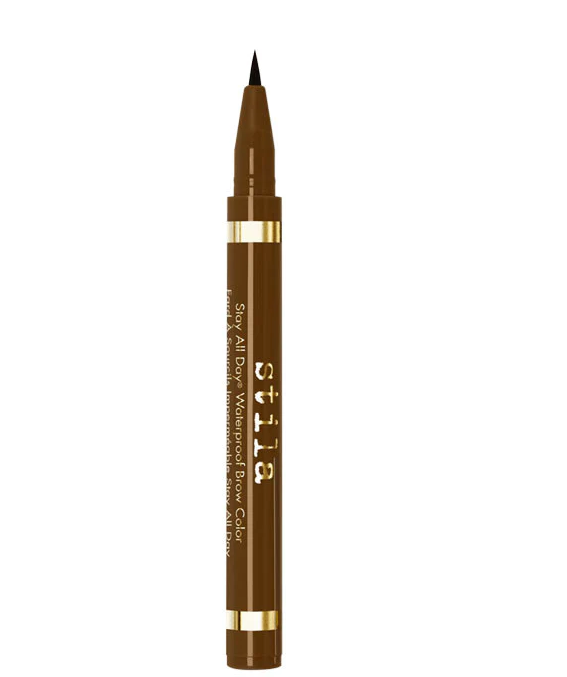 Where to buy it: available both online and in-store
Price: average, affordable
Reviews: users complain about the durability and price of the product, besides, the application is not the easiest too
This brow pen is not the easiest to apply. Users complain about the non-intuitive tip which tends to create an overdrawn effect. This is not an eyebrow pen for beginners, as it requires considerable skills and precision in application. Even though it's a waterproof eyebrow pen, users complain that it's not a very long-wear product. It definitely won't work for special occasions or being exposed to water or sweat. This eyebrow pen is good only for undemanding consumers who want to use it occasionally for daytime makeup. However, is it worth its price? The answer no comes to mind.
7. Tarte Big Ego DIY Waterproof Eyebrow Mapping Pen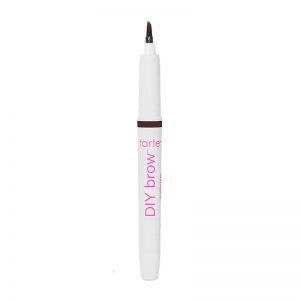 Where to buy it: the product is available online
Price: good, acceptable
Reviews: gets favorable reviews and feedback, but users complain about the durability of the product
A good eyebrow pen with an included brush. This is a waterproof eyebrow pen, but it is not as long-wear as you might think. It works well for everyday wear, but for evening looks you'd better bet on a better, more durable product. It's easy to use, so it won't cause problems even for beginners. This eyebrow pen works mainly for women with thick but sparse eyebrows, as for thin arches it may prove too strong. You'll find it in three natural shades that fill in the sparse areas nicely. This thin eyebrow pen will give your eyebrows a multi-dimensional look and create precise eyebrow makeup, for example, for work.
How to create hair-like strokes on your eyebrows?
If your eyebrows are full of unsightly gaps and sparse areas, you can camouflage them with a precision eyebrow pen. Brow pen was created to give you a microbladed brow pen effectc. Eyebrow pen is the perfect option to create a phenomenal makeup look for any occasion. All you need to do is fill in the desired eyebrow area with short strokes of the pen to create thin, precise lines that mimic real eyebrow hairs. The convenient applicator will allow you to fill in the gaps or even the entire eyebrow if you feel it's needed. All you have to do is choose a long-wear eyebrow pen tailored to your preferences. The right brow pen with a thin tip can help you create a natural, non-overdrawn effect.