Hey!
Does it sometimes happen to you that your hair gets weaker after spending time in an air conditioned room, freezing weather or under the scorching sun? Perhaps you also regularly expose these poor hair of yours to color or other chemical treatments, and you top that with a blow dryer. Yep, hair's life isn't easy.
What I want to say is that we mistreat our stands and later wonder why it falls out and is frazzled. You may think that it's impossible to reverse damage and have thick and full locks. Well, no offence but those of you who think this way are wrong. Healthy hair does exist! You just have to learn how to treat it and how to care for it. If you want to make up for the damage you caused to your hair, begin with finding the right product such as a hair mask, which most ladies forget about. How to pick the best hair mask? Fortunately, I'm lucky to have such product at home. Let me invite you for a review of Nanoil Keratin Hair Mask.
Why does hair need a hair mask?
I know what you want to say: What's the point in using a hair mask if you apply a hair conditioner after every shampooing? I hate to break it to you but it turns out that a hair mask is the product that works better, repairs deeper and visibly improves the appearance of hair. Hair conditioner focuses mostly on smoothing out the ragged hair cuticles. Additionally, ingredients of a hair mask reach deeper and because you let it sit longer – mostly approx 15 minutes – it gives you better and longer-lasting results.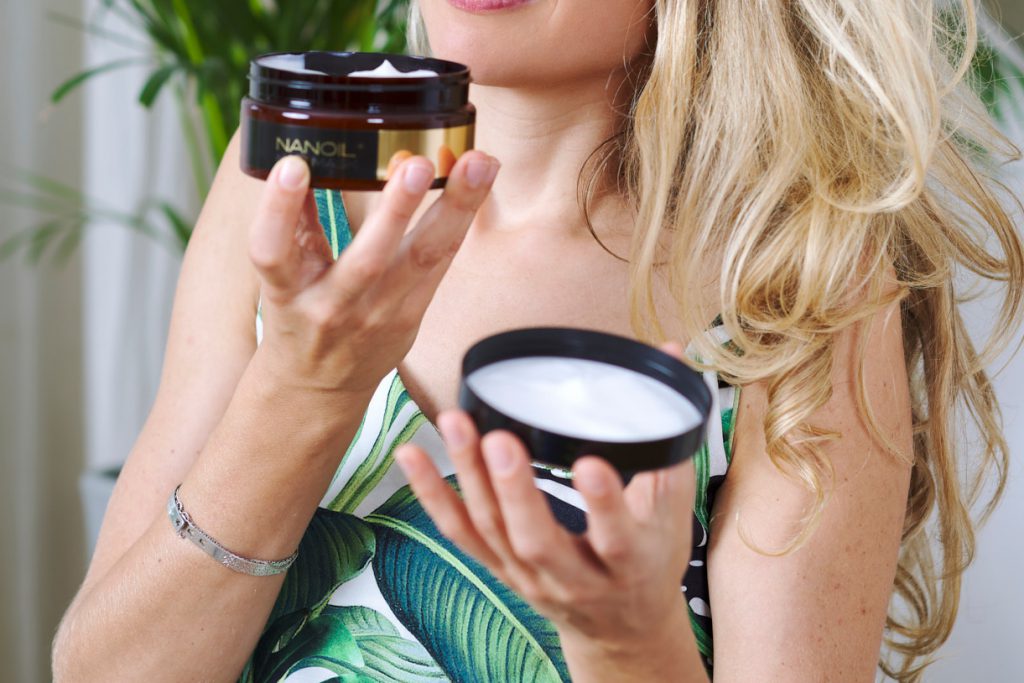 Why does hair need keratin?
In case you don't know it yet, keratin is a one-of-a-kind protein that can be found in our hair and nails. When hair gets weaker, this means that it loses keratin supply, which results in loss of resilience, volume reduction and dullness. Such hair is also more prone to static and frizz. Over time, you end up with completely damaged strands – they become brittle, break and split. What should you do? Naturally, supply the stressed strands with keratin the soonest possible. They need this protein to fix the damage. You don't have to run to a hairdresser to get some costly treatments done – just invest your money in a good keratin-dense hair mask such as Nanoil Keratin Hair Mask. I've heard that this product is recommended by hairdressers because it delivers salon-worthy effects at home.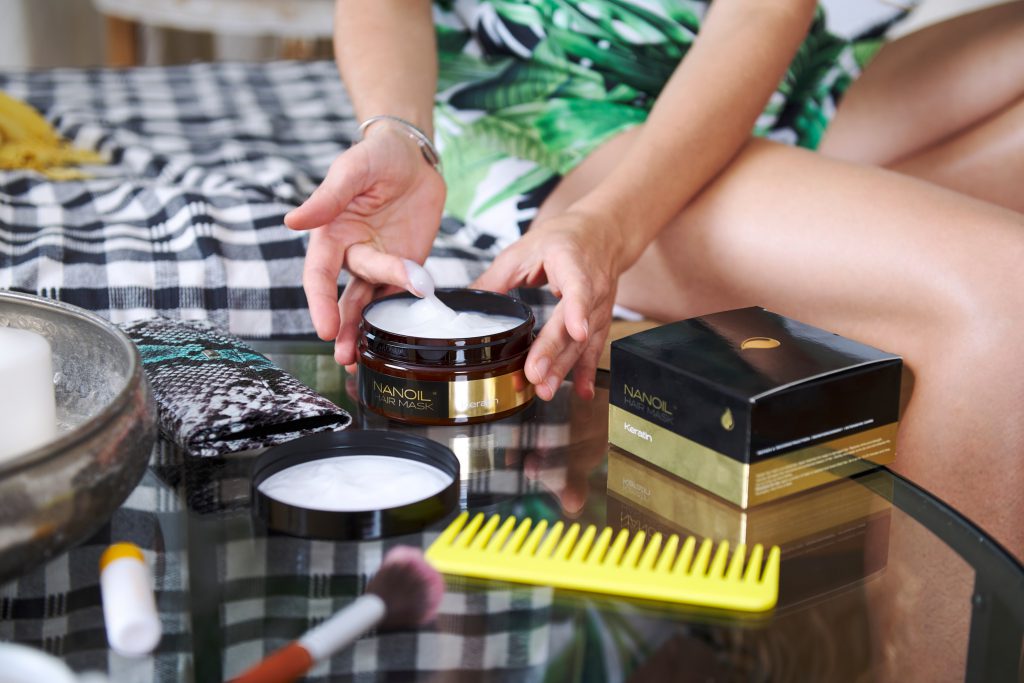 REVIEW. Nanoil Keratin Hair Mask
With this product you don't have to put a lot of effort in repairing your damaged hair, and this is what matters, right? In case you're wondering what qualities make Nanoil Keratin Hair Mask so amazing, I can tell you that its secret lies in the composition. This product is enriched with the best version of keratin – hydrolyzed keratin. It weighs less and therefore penetrates hair faster and deeper. This is how the keratin bonds in hair are repaired, which makes hair stronger and fuller. Owing to panthenol, which is another main ingredient of this mask, strands become lustrous and smooth.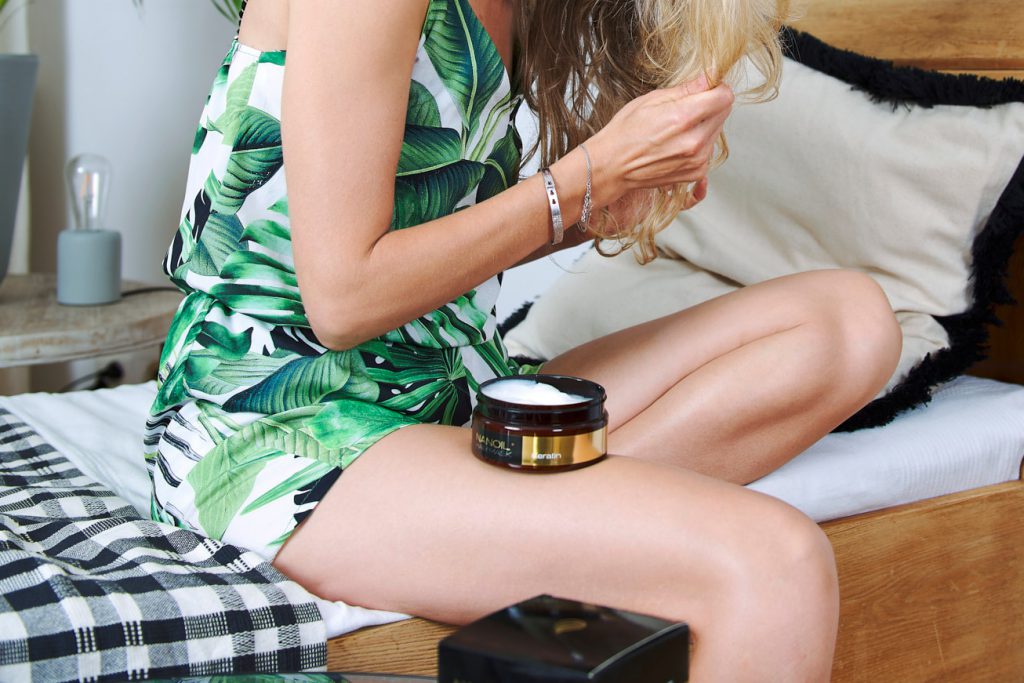 Directions for use
Okay, on the box you can read that the mask has to be spread on towel dry and freshly washed hair, and you have to rinse the product after 20 minutes. To me this is the best way to use Nanoil Keratin Hair Mask because such 20-minute treatment reveals deeply nourished, bouncy, shiny and smooth hair. I couldn't resist myself from touching the hair at a couple of first uses. I couldn't believe how lovely my hair was (and still is!).
What's surprising, this hair mask works pretty good when used as a hair conditioner! I discovered this feature by accident when I ran out of my regular conditioner. I reached for Nanoil keratin mask and let it sit on my hair for a really short while, just to ease combing later. I rinsed it out after two minutes, or so. The result? AMAZING! My strands were smooth and were so easy to style. That being said, I'd also recommend using Nanoil Keratin Hair Mask as a quick hair mask.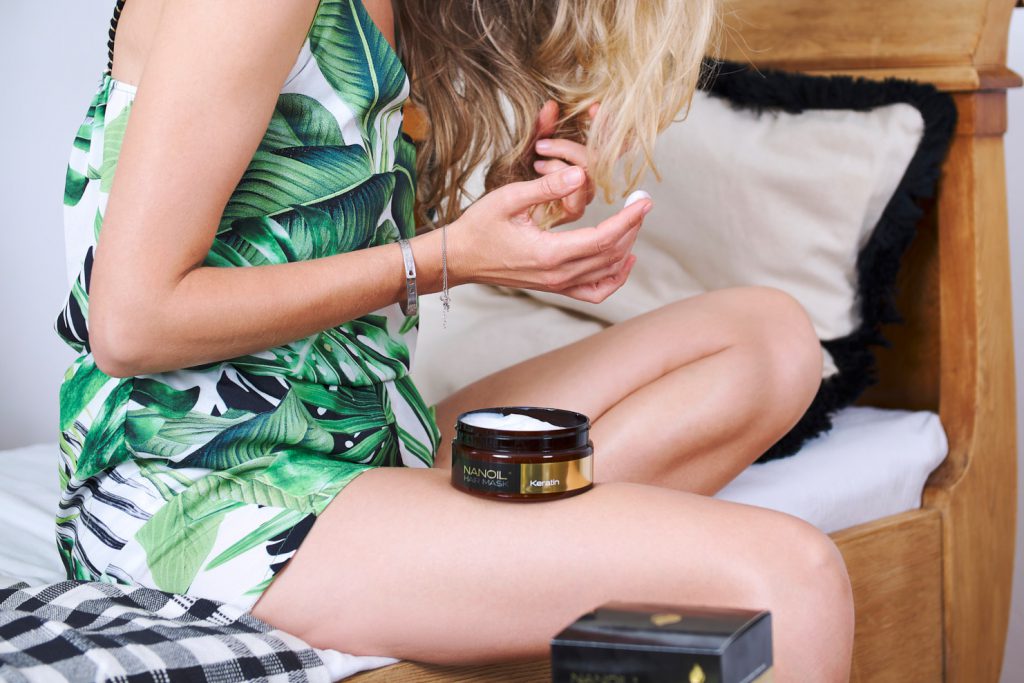 Effects
So, it's time to reveal the most important info – how much time Nanoil keratin mask needed to nourish and repair my hair. Well, I noticed some improvement after just one  use – seriously! Obviously, for the effect of strong, fully-repaired and thick hair I had to wait a little longer. Naturally, the time you need to rebuild all broken bonds along the hair shaft depends on how damaged and stressed your hair is at the beginning of the treatment. However, you should see measurable improvement in the way your hair looks after a month of regular keratin treatment with Nanoil. And the improvement would leave you stunned. Nanoil Keratin Hair Mask makes hair thicker, shiner, better hydrated, fuller and smoother. And this amazing smell!
Let me know if you have had the opportunity to use Nanoil Keratin Hair Mask. Oh, actually you may be interested in other Nanoil products, because apart from keratin hair mask you can also find argan hair mask or charcoal mask. I think you should check Nanoil offer, especially if you like natural beauty products. I'm leaving the official website here for you in case you want to see other hair masks and cosmetic oils: nanoil.us.