Nanoil Argan Oil – Quick Review. Is it worth the hype?
Hi! 😉
Are you looking for a cosmetic with various properties? It should moisturise, nourish, rejuvenate and be full of valuable active ingredients… It turns out this perfect beauty product exists – it's Nanoil Argan Oil – my skin care sensation! Get to know it better!
Nanoil Argan Oil is a precious source of vitamins, minerals and valuable fatty acids. It is extracted from the long-living and highly respected Argan trees. It's cold-pressed and unrefined to retain all its valuable properties.
---
Nanoil Argan Oil – properties
This golden oil with a nutty smell mainly consists of EFAs (essential fatty acids) – primarily the oleic and linoleic acids which have unique, non-comedogenic properties. It also contains emollients that lubricate the skin and prevent water loss. They protect the skin and control the function of the sebaceous glands, preventing dryness.
Oleic acid maintains skin hydration, regenerates hair and restores its shine and resilience making it easier to style. Linoleic acid, a component of sebum, reduces skin imperfections and leaves it fresh and moisturised.
Nanoil Argan Oil contains more than 100 substances with antioxidant properties. After a few weeks of use, I already noticed that my skin is free of imperfections and looks youthful and radiant. The oil is valued for its high concentration of vitamin E – the vitamin of youth. It penetrates the deepest layers of the skin, reduces wrinkles and fine lines, neutralises free radicals, evens skin tone and restores its youthful look.
The cosmetic is also a source of carotenoids that speed up wound healing, providing the skin with even skin tone. Squalene, a natural component of sebum, has antibacterial properties, so it nourishes and regenerates the skin, maintaining its healthy look. Polyphenols, on the other hand, strengthen blood vessels, improving microcirculation. They prevent sunburn, discolourations and have strong anti-inflammatory properties.
Nanoil Argan Oil benefits:
moisturises, nourishes and regenerates the skin,

slows down the skin ageing process,

smooths out wrinkles and fine lines,

strengthens hair, brows, lashes and nails,

supplies valuable vitamins, minerals and EFAs,

safe for allergy sufferers, people with AD and psoriasis,

combats cellulite and stretch marks,

provides even skin tone,

its antioxidant properties neutralise free radicals,

speeds up wound healing,

prevents sunburn,

improves firmness and skin elasticity,

protects the ends from splitting.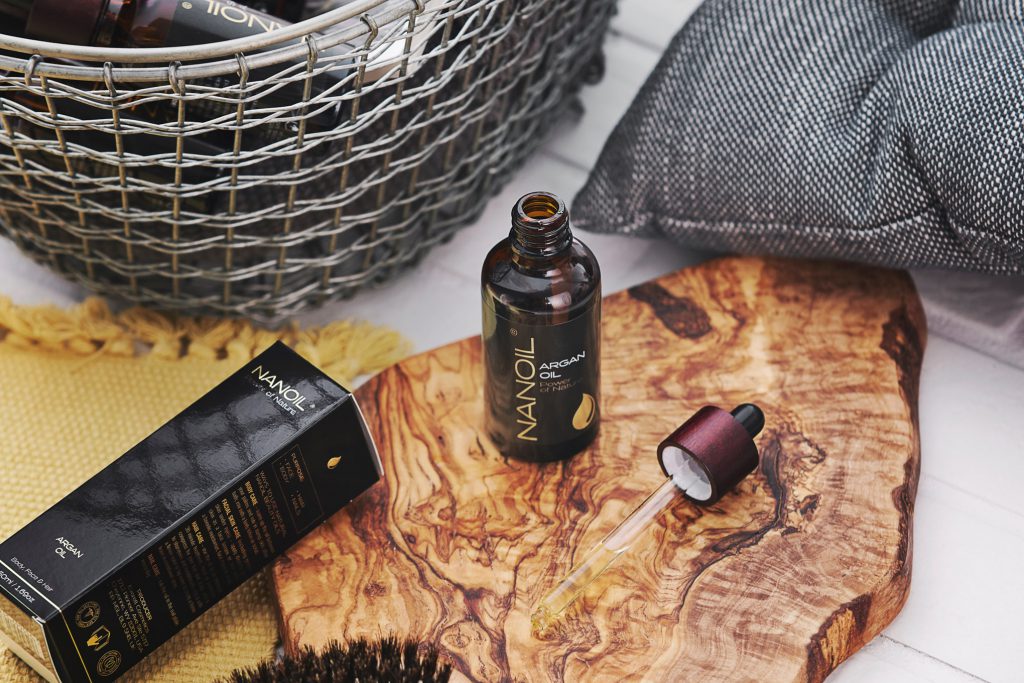 This 100% natural argan oil is cold-pressed and unrefined. It has already gained the recognition of happy customers around the world. Its results can be confirmed by numerous positive reviews and Ecocert quality certification. It's free of synthetic dyes to retain all its properties. It's a hypoallergenic, non-comedogenic, organic oil free of silicones, parabens and synthetic pore-clogging ingredients – just what I was looking for! It's suitable for vegans, natural skin care fans and even people with acne-prone, sensitive, couperose or problematic skin.
This perfect cosmetic is literally great for everything and it has never let me down. You can get it from nanoil.us where you can discover the whole range of organic cosmetics of the Nanoil brand. Apart from their iconic argan oil, I particularly liked castor oil and their keratin hair mask.
Have fun shopping!
---