Hi, girls!
This post has appeared thanks to my friend – Joanne. She talked me into buying Nanolash – a well-known eyelash and eyebrow serum recommended by bloggers.
Joanne had gone through a very serious and long disease that has hugely weakened her body – a long-term antibiotic treatment. Consequently, her hair became dull whereas the lashes lost their colour and condition and started thinning. She tried out many products e.g. castor oil and colour-less spiral eyelash conditioners. Sadly, they did not work like repairing serums. They were more like a make-up primer. Joanne even started thinking about eyelash extensions but she knew they would totally destroy her lashes. After taking antibiotics for a long time, she did not want to take any supplements for beautiful hair, nails and eyelashes either.
We saw Nanolash serum while browsing through one of favourite blogs. The article was about the effects of using Nanolash after two, four and six weeks. The results were truly surprising. Moreover, many girls also posted comments saying that Nanolash worked as great for their lashes. It turned out that the serum helps to quickly grow eyebrows as well – I got interested in this option even more than Joanne because my brows did not want to regrow after a failed fill-in. We ordered Nanolash two-pack which gave a better deal than buying one bottle. We agreed we would start using the serum the same day and then compare the effects.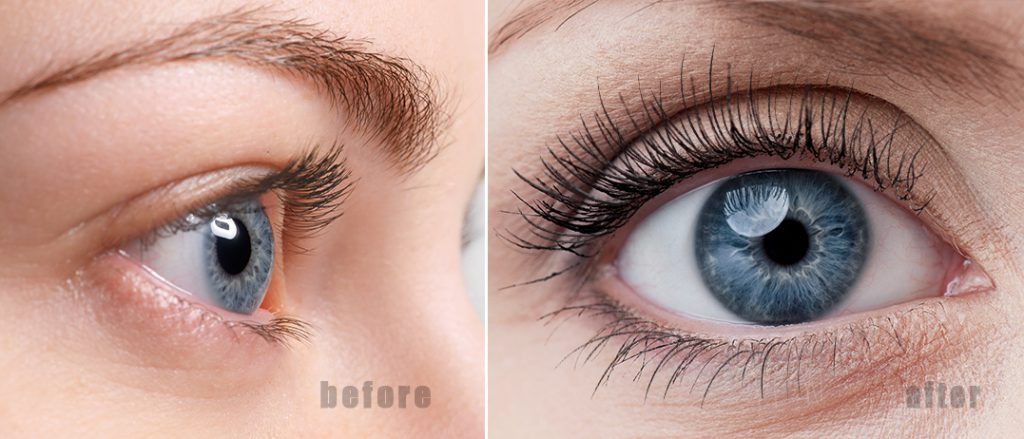 We started on a sunny Monday. We applied Nanolash enhancer to clean and dry skin of eyelids every evening. At the beginning, it was not easy but I quickly got the hang of the application which now takes a moment. The eyelash serum is spread on the lash line the way we use an eyeliner.
Read on to see how Nanolash worked for my friend's and my eyelashes!
WEEK 1
ME: nothing…
JOANNE: even less…
WEEK 2
ME: lashes are darker and stronger
JOANNE: she sees no difference
WEEK 3
ME: ends of my lashes are no longer brittle and light; they have a nice dark shade
JOANNE: her lashes get an intensive darkening and bounce
WEEK 4
ME: my lashes are defined, slightly thicker and longer
JOANNE: it is striking: her lashes are thicker and stronger, no longer thinning
WEEK 5
ME: a sudden growth boost, my eyelashes are much longer and nicely curled up. I also used Nanolash for eyebrows so I noticed 'new' brows as well
JOANNE: the lash line is fuller, new tiny lashes start growing, no more thinning or breakage
WEEK 6
ME: my lashes look impressive – on both the upper and lower eyelids; I see new eyebrows
JOANNE: her eyelashes are longer, well-moisturized and start curling upwards
WEEK 7
ME: my eyelashes are beautiful, thick, full and most of all – very long
JOANNE: her lashes still grow and get stronger; they already look very nice; her eyes gain definition
WEEK 8
ME: it is high time I visited a beauty salon for a professional eyebrow shaping
JOANNE: her lashes are intensely dark, bouncy and strong; their length is astonishing; they have never looked as beautiful
Summing up:
Nanolash worked great for both of us. Joanne had more damaged lashes so regenerating them took a bit longer. Apart from lashes, I also repaired my brows. Nanolash eyelash and eyebrow serum delivers quick and amazing results. What is more, it is really cost-effective – 3 ml is enough for six months of use.
Another thing we liked about Nanolash is a short, rich and cruelty-free list of ingredients. Instead of animal-derived components, the serum contains the Eyebright Extract that nourishes and soothes. Great job, Nanolash! We recommend it! 
Want to know more? Check the official website: www.nanolash.com