Hi guys!
Soap brow is an incredibly popular trend at the moment, it's been in style for a few seasons now. Many brands have released their own versions of brow soaps and it became quite difficult to choose the best one. In response to your numerous requests tested the new Nanobrow cosmetic, Nanobrow Eyebrow Styling Soap. Here's my review, a few comments and thoughts. Keep reading, please 😉
Soap brows – why are they this famous?
Combed upwards, thick, fluffy and shiny, looking as if they're laminated – they've been popular for a few seasons now. Brow soaps have found their place in our beauty kits because they smooth, shape and set the brow hairs in place perfectly.
Brow styling delivers a rather subtle effect that is highly long-lasting – the arches are able to survive many hours in flawless condition. Brow styling soaps are extremely efficient and one packaging may last you up to a few months of regular use. They successfully replace brow gels, mascaras, wax or… brow lamination! It's a fantastic substitution for this beauty salon treatment and the results are similar.
Who is Nanobrow Eyebrow Styling Soap for?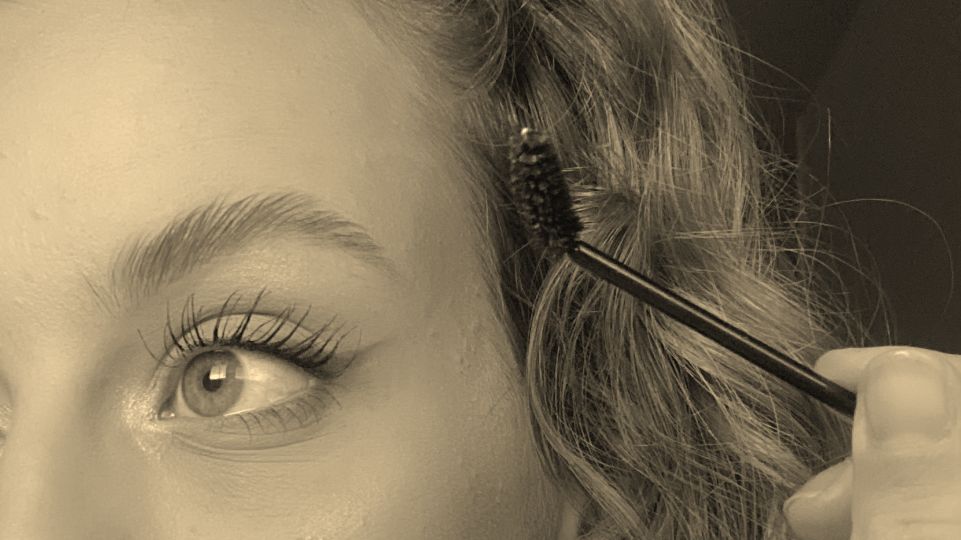 It's great for people with skinny and thicker eyebrows, too. The kind of effect you get depends on your preferences. The soap lets you create various makeup looks: from "no makeup" makeup to more elegant and fancy ones. It only takes a bit of practice for your eyebrows to look like you've just left a beauty salon 🙂
Nanobrow Eyebrow Styling Soap – my review
Depending on the technique you choose, you can stick your hairs to the skin (just like in the brow lamination procedure) or only slightly accentuate them. The choice is yours! The Nanobrow soap is wonderfully soft and malleable which results in a million possibilities in makeup. When I was testing the product I focused on the way it held my brow hairs in place. 
In comparison to other soaps I had the chance to test, Nanobrow Eyebrow Styling Soap is great. It sets the hairs like no other cosmetic and it's super efficient, so the price is fair to the quality you get. I've been using it regularly for a month now and I can't really see that a lot is gone from the jar. Can't forget about the amazing spoolie brush! A big plus is that the applicator is equipped with the soap and you don't have to buy it separately. It has a refined, ergonomic tip that makes it easy for you to comb the brow hairs.
Nanobrow Eyebrow Styling Soap can be used without wetting the soap or the brush. The gel consistency doesn't resemble regular bars of soap, but rather a thick brow gel. What's more, there are no smudges on the skin, it doesn't stick the hairs together and, most importantly – it's not irritating to sensitive skin. What's w orth noting is that it takes a few moments to fully dry so you have enough time to fix any mistakes if you make any.

In conclusion:
the soap has a pleasant gel consistency
you don't need to mix it with water
it sets the hairs for many hours
highly efficient
works well with full and sparse brows
is equipped with a spoolie brush
great value for money
Thanks for visiting my blog. I recommend watching out for other Nanobrow reviews that you can read very soon 😉