Hey there!
Trying to determine how to find the best brow products? Perhaps every one of you will like a different product depending on what kind of effect in makeup, you want to deliver. If you prefer a stronger end result then you will probably like brow pomade. On the other hand, fans of subtle makeup are more likely to fall in love with powders and ombre effects. However, there's a product appreciated by everyone: Nanobrow Lamination Gel. Why is it so popular? Let me explain!
1. What exactly is Nanobrow Lamination Gel?
The cosmetic is in the form of mascara and is equipped with a little spoolie. It comes in tinted and clear versions. Most importantly it styles the brows excellently and adds a lovely colour. Nanobrow Lamination Gel has a great silicone precision applicator that combs, separates and tames even very unruly hairs.
2. Nanobrow Lamination Gel – what kind of brows is it good for?
Well, as I've mentioned in the intro, Nanobrow Lamination Gel is multi-purpose and fantastic for every brow type and every makeup effect you want to create. You will surely appreciate it no matter if you prefer expressive or delicate makeup. The gel styles and keeps thick eyebrows in check and helps shape skinny arches correctly. The tinted versions will even out the colour and add definition.
3. Does Nanobrow Lamination Gel deliver a laminated brow look?
Oh! This question is very important as the gel literally has "lamination" in its name – not without a reason! Yes! It does deliver the lamination effect: Nanobrow Lamination Gel dries and locks the brow hairs in place, so they're the exact shape that you've created. The way I do my eyebrows: I brush my eyebrows up and away to make them look thicker and fluffier. Nanobrow Lamination Gel will keep them in check all day long!
4. Can you use Nanobrow Lamination Gel in different ways?
Yep, this is another reason why the gel is so famous. It's great when used alone on bare eyebrows. Besides the fact that the gel tames your hairs, you can add some colour to your eyebrows additionally. It's worth knowing that Nanobrow Lamination Gel goes incredibly well with other brow makeup products. For example, I use it after applying pomade, so it acts as a fixer. Thanks to this cosmetic, the makeup isn't as flat and basic… hmm… I hope you know what I mean by that 🙂
5. What effects does Nanobrow Lamination Gel deliver?
I fell in love with it because of the results! I adore it because it lets me create a natural makeup look and accentuate, define and style my eyebrows. What's more, it sets brow makeup done with other products. What can I say: the laminated brow look is fabulous!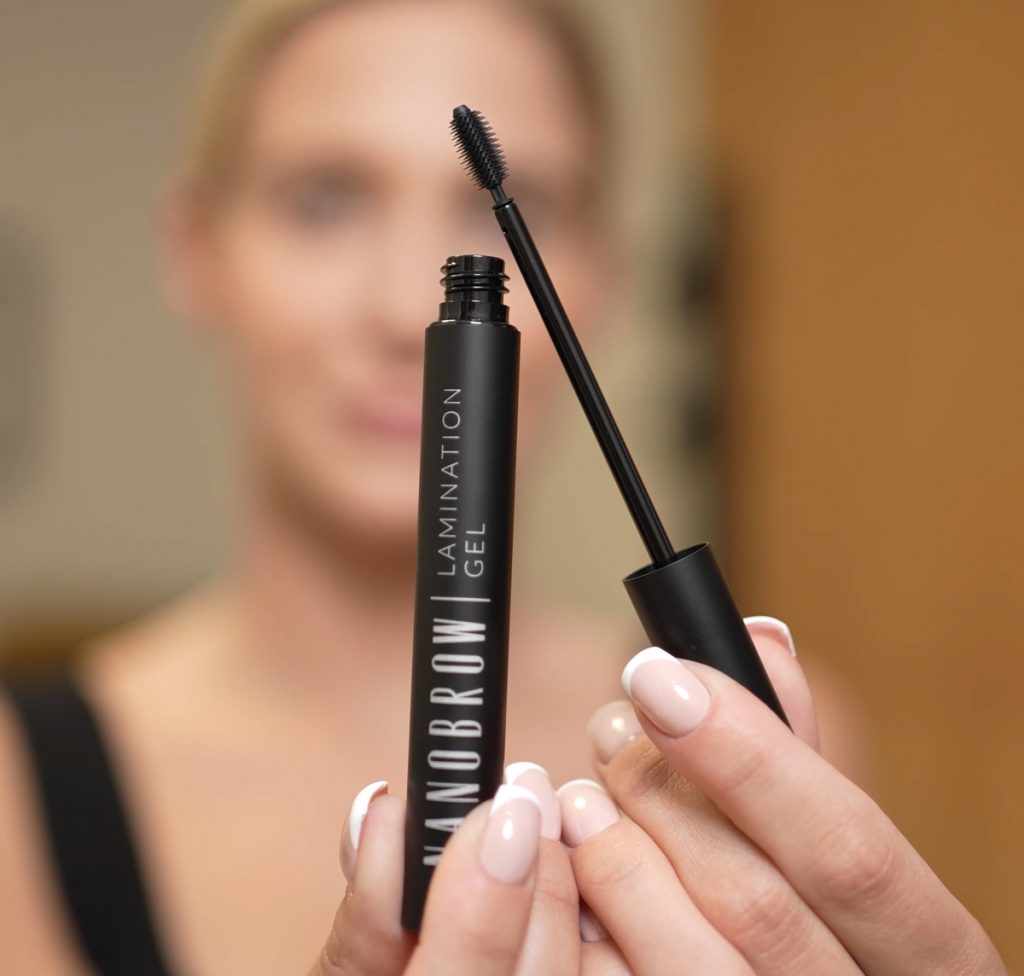 6. Where can I find Nanobrow Lamination Gel?
My dear readers, do you like online shopping? I have good news then as the Nanobrow Lamination Gel can be purchased on the official website: comfortably, quickly, without leaving your home. Go to: www.nanobrow.us – check it out yourselves!
7. How to remove Nanobrow Lamination Gel?
Even though it's so durable, it's not as difficult to remove: no harsh substances or rubbing of your skin is needed here. You can use the Nanobrow micellar water which you will find on the website as well.