Hey Girls!
For a very long time I had been struggling with dark spots that acne left on my skin (also known as post-inflammatory hyperpigmentation). Luckily, I finally erased them some time ago. I was looking for something that might have helped me remove these nasty post-acne pigmentation spots without spending money on those costly in-salon beauty treatments like microdermabrasion or laser. And I finally found it!
Let me present to you vitamin C face serum from Nanoil – the cosmetic that improved my skin and brought back its good looks. <3
If you would like to learn about the ingredients, effects and properties offered by Nanoil Vit. C Face Serum, let me wholeheartedly encourage you to keep reading. I did my best effort to collect all the essential information and present it in one place, so please feel free to make use of it.
The hero of today's review: Nanoil Vit. C Face Serum
Vitamin C serum is one out of six serums that can be found in Nanoil offer. After achieving great success with their organic oils for face, hair and body, the brand decided to launch a line of face serums destined for all skin types. The most popular among them is vitamin C serum, which I decided to review. And you know what? It's nothing surprising that this product is top-rated because who wouldn't like to have radiant, youthful-looking and clear skin?
Vitamin C face serum: Intended use
Who is Nanoil Vit. C Face Serum for? Well, vitamin C serum came into existence for those who struggle with various skin concerns like:
dull skin
uneven skin tone
discolorations and spots
nutrient deficiency
This product is also good for mature skin that hasn't developed visible signs of ageing yet, such as deep wrinkles or sagging. In general, you can reach for this serum if you want to deliver nutrients to your face because ascorbic acid is always needed, no matter skin age and type.
What is Nanoil Vitamin C formulated with?
Asking about the ingredients is a good habit because the constituents determine the effects a cosmetic is able to create. In the case of Nanoil Vit. C Face Serum, the formula is simple and the key ingredient is ascorbic acid. This serum lacks parabens, silicones, alcohols, artificial colorants or aromas, which makes it perfect even for sensitive skin. I've also noticed that this skincare product is enriched with a potent antioxidant taken from Punarnava plant, known in the Far East regions for its rejuvenating properties.
Effects of Nanoil vitamin C serum
I know that there is something that you are interested in more than in the ingredients. This would be the question on how Nanoil vitamin C face serum affects the skin and if it's worth using it. In my opinion, it's a worth using product because it:
inhibits oxidation, protecting the skin from ageing.
nourishes, repairs and stimulates cellular turnover.
evens out skin tone and restores its natural glow.
deeply conditions and protects from UV.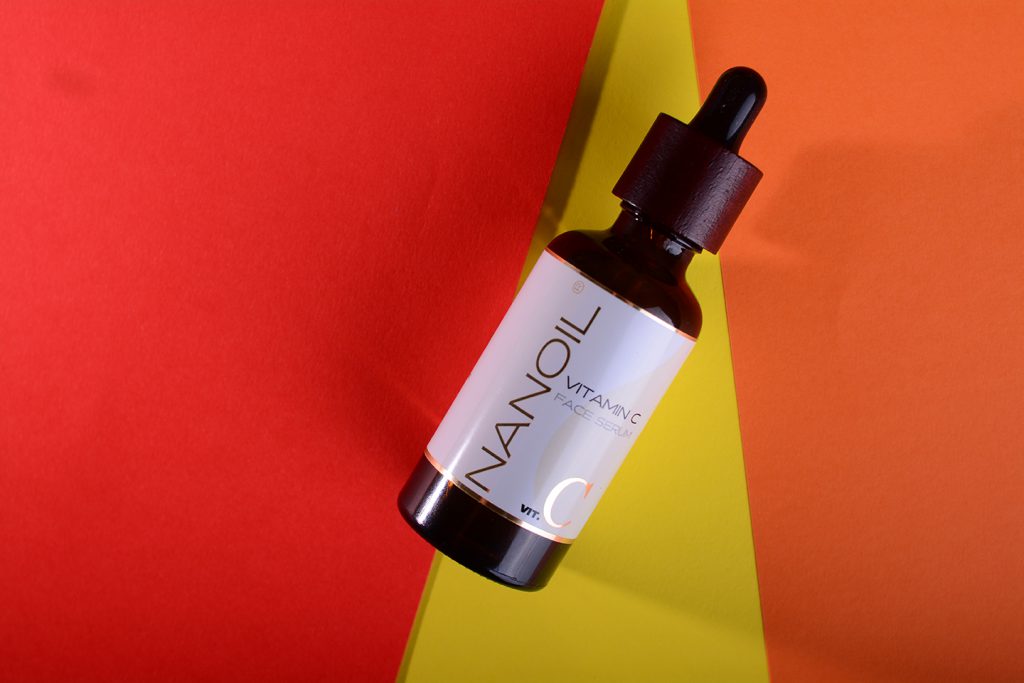 Did this serum brighten my dark spots?
The most important issue, however, is that thanks to Nanoil Vit. C Face Serum I succeeded at removing these unwanted dark spots caused by acne. I can tell you that in my case, they started becoming brighter after a week, to disappear completely after more or less 3-4 weeks. That was quick!
It turns out that this is the best brightening face serum on the market. I've read testimonials of girls saying that this serum managed to erase not only post-acne spots but also sun spots as well as discoloration that appears on skin as a consequence of using wrong products/treatments. Simply put, Nanoil vitamin C face serum is good at leaving skin brighter and evening out its tone – no matter what makes your skin dull.
I'm giving this serum STRONG 9/10. I'm taking away one point because this serum is available online, but I like visiting my local drugstore, looking through the products, reading their labels and picking the one I like most.
Let me know if you've already heard about Nanoil Vit. C Face Serum!