Hey there! I'm sure you'll agree that an antiaging booster is always welcome. Well, it's definitely necessary when we turn 25! Don't worry though. I don't mean fillers and surgeries. A good collagen face enhancer is enough to make the face stay fresh, young and moisturized. I chose Nanoil Collagen Face Serum because I love the components and long-term effects. Do you want to know the effects of a 30-day treatment? Keep reading!
I keep repeating that a conscious and fruitful skin care routine needs quality products. Many girls ask me how to keep the youthful glow for longer. Well, we need good anti-wrinkle routine with a quality collagen serum. I picked Nanoil Collagen Serum – it fulfills the skin's needs every day.
Why Nanoil? I was encouraged by the reviews and women who write about the effects of everyday application – Nanoil's serum ensures hydration, nourishment, smoothness, antiaging and sun protection. I decided to give it a try. What's the result?
How does Nanoil Collagen Face Serum perform on the skin of the face, neck and chest?
#1 Nanoil's serum moisturizes the skin
This serum delivers all my skin lacks and longs for, that is moisture. It lessens all signs of dropping collagen – limp, dull, dry skin. With passing time, the body no longer produces the necessary amounts of this powerful protein which makes up the skin. Collagen fibers become weaker so the skin is not strong enough to hold essential moisture. By delivering collagen, we help it handle dryness, but this serum has extra ingredients: intensively-hydrating Tara tree extract is a natural emollient substance which creates a protective coating to keep moisture from escaping. Another component – Nori algae extract – is rich in vitamin C which stimulates synthesis of collagen, prevents inflamed skin and stops aging.
#2 It repairs and strengthens the skin
Did you know that collagen is responsible for the cellular renewal in the skin? It is a building protein which determines how quickly skin cells repair and how strong and wrinkle-resistant they are, delivering elasticity and firmness. However, for the best effects, it must be the highest-quality hydrolyzed collagen which is easily absorbed by the skin. It promotes skin renewal and strengthens its structure to make the face look much better.
#3 It adds smoothness
Nanoil Collagen Face Serum leaves the skin moisturized and revived so the face looks smoother and prettier. The product also handles first face lines and stops new ones. Reinforced collagen fibers tighten the skin so it's firmer.
#4 It protects the skin
How to keep the skin flawless for longer? First it must be protected from UV rays and pollution. Nanoil's serum provides that thanks to added Nori algae extract – a natural sun protection filter which is very effective. It also guards from the pollutants in the city.
#5 It beautifies the face
That's the effect of regular application of Nanoil Collagen Face Serum. I've noticed my skin looks less tired or dull – the signs of fatigue are gone. The skin is firmer and has a healthy shine. Small pigmentation spots faded too.
Nanoil Collagen Face Serum with home delivery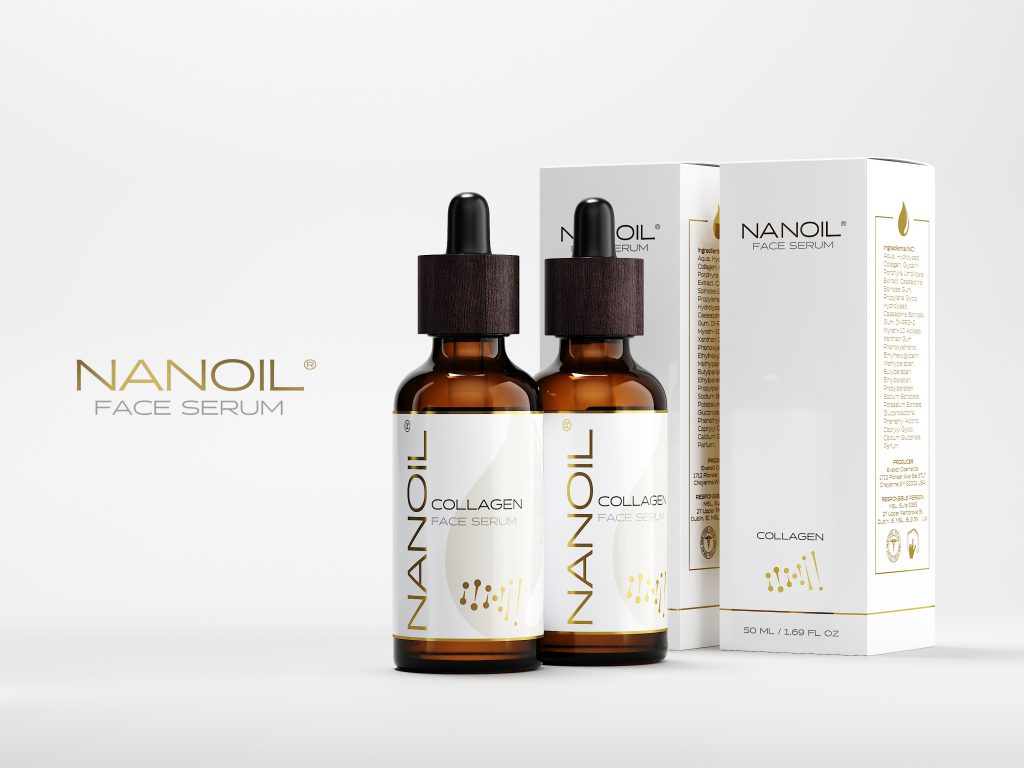 Another great thing about Nanoil Collagen Face Serum is you can get it delivered fast. Just go to www.nanoil.us. It has a reasonable price. While you're there check natural oils for body and hair – a perfect addition to your beauty routine.
Have you got a favorite skin care product with collagen? Have you tried Nanoil's serum? What effects have you spotted? I'll be happy to read your comments!