Hey dear girls!
Did you know that when it comes to brow lamination, nowadays you can find a kit to perform the treatment at home in almost any beauty store? It turns out that with a good brow lift kit, DIY brow lamination can go quickly and efficiently with no effort! To help you choose the best one, I've rounded up and rated all the most recommended lamination kits. Check out my ranking of the best brow lamination kits for home use!
Eyebrow lamination – what is it?
The brow lamination treatment is an innovative solution that gives your eyebrows a really lovely and unique look. During DIY brow lamination, a special lifting product is used to shape brow hairs and then fix them in this shape; then the eyebrows are also often nourished with a protective product. This lifts the brow hairs, giving them the trendy brushed-up look and eliminating imperfections and gaps, and adding volume to the brows. Following the treatment, the eyebrows look more defined and thicker, which adds definition to your overall look. The end result is truly gorgeous, extremely stylish, and elegant. In addition, brow lamination at home is not difficult at all!
DIY brow lamination pays off!
Dear readers! It pays off not only because your eyebrows look great for weeks, but also because of the cost. The point is that for the price of one brow lamination treatment done by a beautician, you can get a good brow lamination kit for home use, which should be enough for a dozen treatments. The effects following the treatment last for about six, and with a good kit up to 8 weeks, which means you can enjoy perfect eyebrows for a long time: regardless of the weather, a visit to the pool, gym, etc. Isn't it a great option to always be confident that your eyebrows look flawless and their shape is immaculate? <3 For me, it's a sensation!
Brow lamination at home – effects:
→ Nicely styled, elegant, and shapely eyebrows.
→ Eyebrows looking visually thicker and fuller.
→ Perfect eyebrows for weeks – you don't even need to apply any brow makeup unless you feel like it!
Which brow lamination kit to choose?
Well, that's it – this is the biggest and most important question bothering all women 😉
What is the best lamination kit? Which one of them is suitable for a DIY brow lift at home? I already know, and I hope that the ranking of the most recommended brow lamination kits I made for you will help you decide!
Most recommended kits for DIY brow lamination – RANKING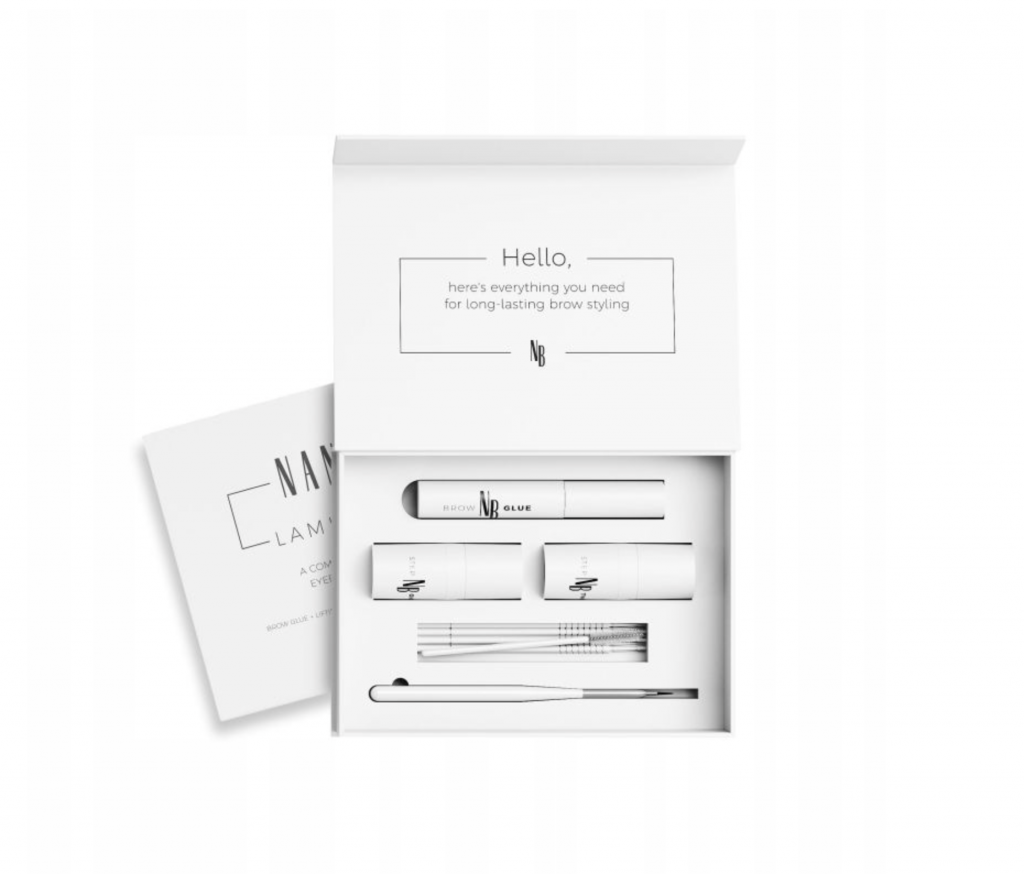 Where to buy it: online and in regular beauty stores (I ordered mine straight from the brand's website: www.nanobrow.us)
Efficiency: 10 lamination treatments (I managed to perform 12 brow laminations with it as also my friends)
The lamination effects last up to 7 weeks
The kit for DIY brow lamination from Nanobrow is my new beauty obsession. So far I haven't found a better one that would be so easy to use and give such professional results! You don't even have to cover your eyebrows with osmotic film during the lamination treatment as the product work equally well without it. Really, I am impressed with it. It comes with only 3 products in convenient bottles with pump dispensers so you can easily and hygienically perform your brow lamination at home. My DIY brow lift at-home treatment with Nanobrow Lamination Kit took… 20 minutes! The effects were superb! My eyebrows gained volume and definition that lasted for 7 weeks.
Nanobrow's kit for brow lamination at home – reviews
This is a recommended brow lamination kit with great reviews, which I can confirm: I find it efficient, affordable, long-lasting, and very professional, yet super easy to use.
2. Thuya Eyebrow Lamination Kit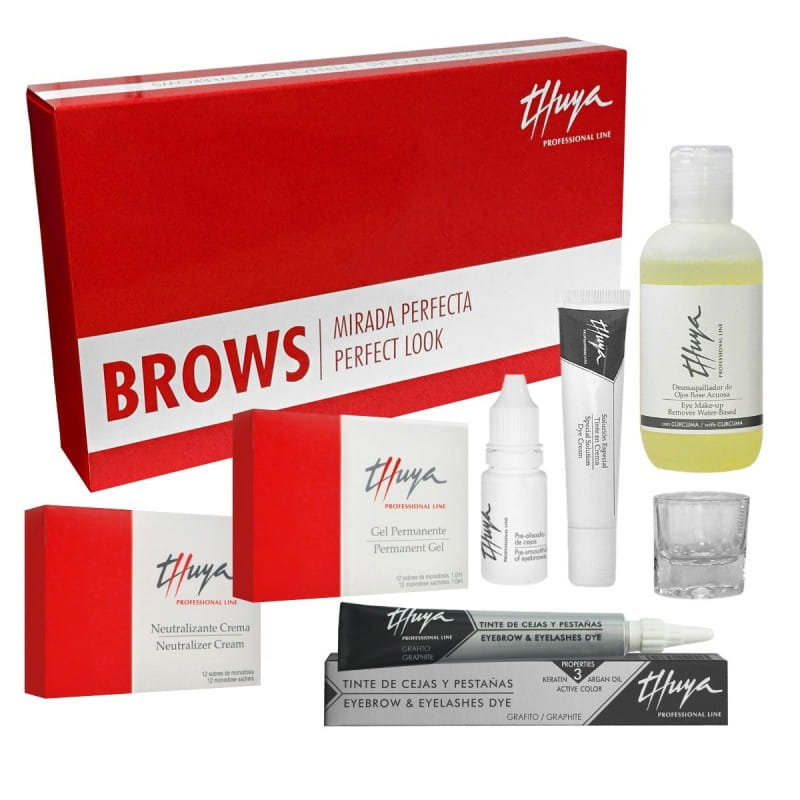 Where to buy it: in regular and online beauty stores
Efficiency: enough for about 10 laminations
The lamination effect lasts for 6 weeks
Thuya's brow lamination kit ensures not only styling but also a brow lift. If you're going to use it by yourself at home, Thuya's brow lamination kit ensures sensational results, but you must have some knowledge regarding the laminating cosmetics. This is not a kit for beginners, and I don't think it's good for your first DIY brow lamination; the manual is quite complicated as the kit is intended for professional use only. Lots of products prove not problematic for beauty salons, however, the difficulty of use may be a problem for some people.
Thuya's kit for brow lamination at home – reviews
Many girls choose this professional brow lamination kit for home use. Unfortunately, opinions about its use at home vary… most often, unfortunately, this professional kit may overwhelm all beginners. I recommend it only for professional brow stylists in beauty salons.
3. MIYA LASH BROW LAMINATION KIT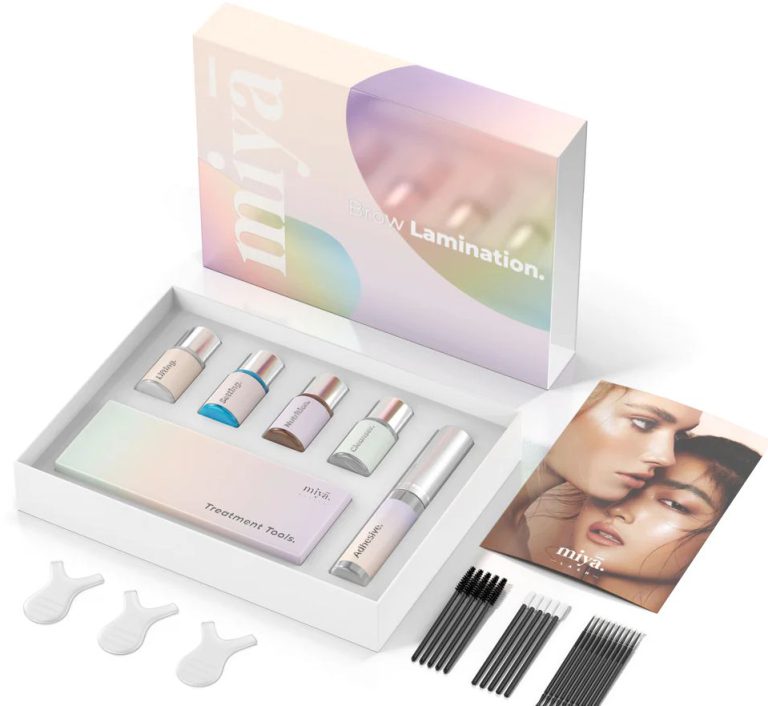 Where to buy it: in various beauty stores and online
Efficiency: about 7 laminations
The lamination effect lasts for 6 weeks
A popular and often recommended starter kit for DIY brow styling at home that lifts brow hairs and shapes them for about 6 weeks. Unfortunately, it's not an affordable option to lift your eyebrows. Is this brow lift kit efficient though? I managed to use it 7 times. It requires some skills, and the instructions are quite complicated in my opinion. It can be discouraging because of the multitude of eyebrow-laminating products… there are many bottles that can lead to confusion, especially for beginners in DIY brow lamination. Another downside I've noticed is the way the bottles are made and their formulas. The products are screw caps so they are quite inconvenient to use. I spilled a lot while scooping the products onto the applicators.
Miya's kit for brow lamination at home – reviews
This is a fairly common and recommended brow lamination kit, which, however, is less effective than the others and, due to the price, not so cost-effective in my opinion. This is not a cheap brow lamination kit.
4. SASSY SAINTS Eyebrow Lamination Kit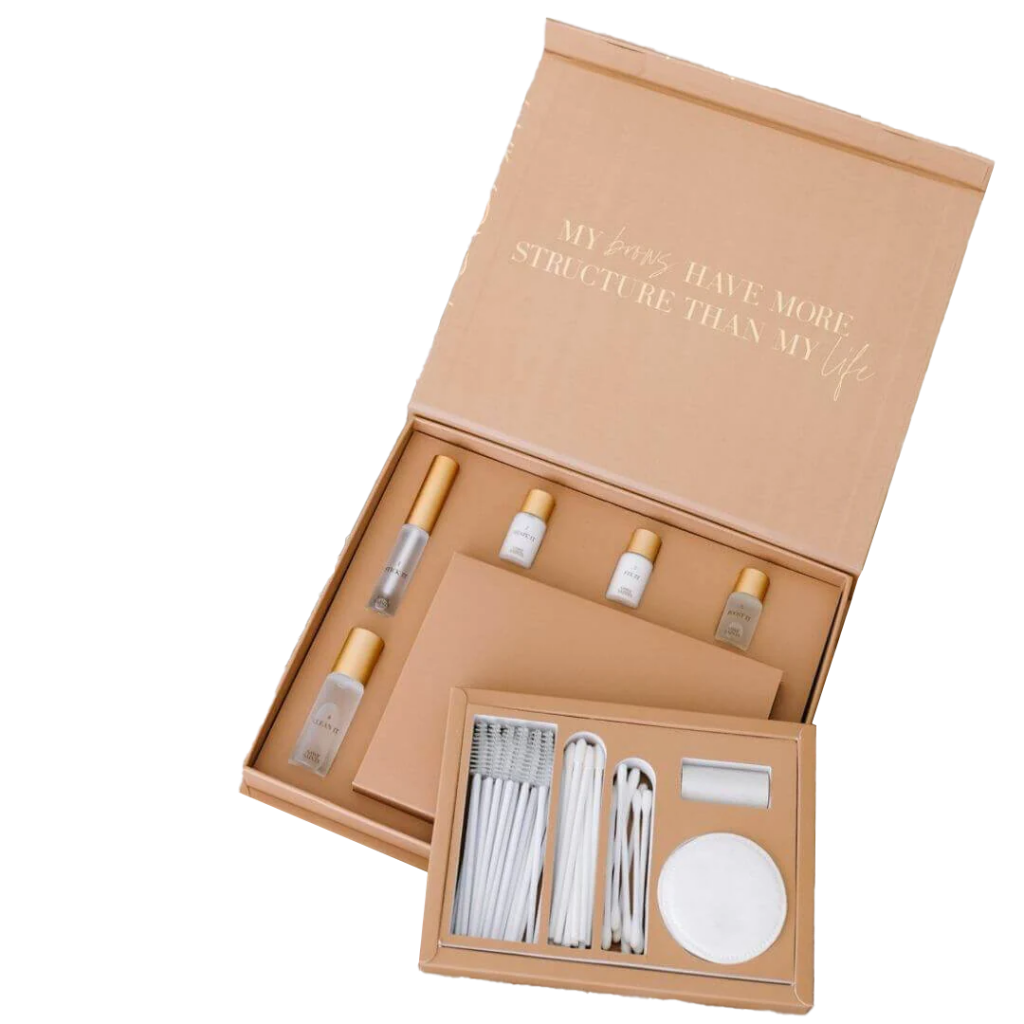 Where to buy it: on the official SASSY SAINTS website
Efficiency: about 6 individual laminating treatments
The lamination effect lasts up to 4-5 weeks
This eyebrow lamination kit is suitable for women who have no prior experience with eyebrow lamination at home. To perform the treatment with this kit, you only need to follow a few steps. At the same time, you don't have to worry about the formulas running into your eyes or unwanted clumps. As for the results, you may feel slightly disappointed. The kit gives the desired brow lift and allows you to tame your unruly eyebrows but that's about it. Ladies with high expectations should reach for another solution.
SASSY SAINTS kit for brow lamination at home – reviews
Many women appreciate this kit for its simplicity and for the fact that you can perform brow lamination with it quite quickly, even without any experience. On the plus side, the instructions are clear, but the results may not impress if you expect a spectacular change.
5. FLEEKY Eyebrow Lamination Kit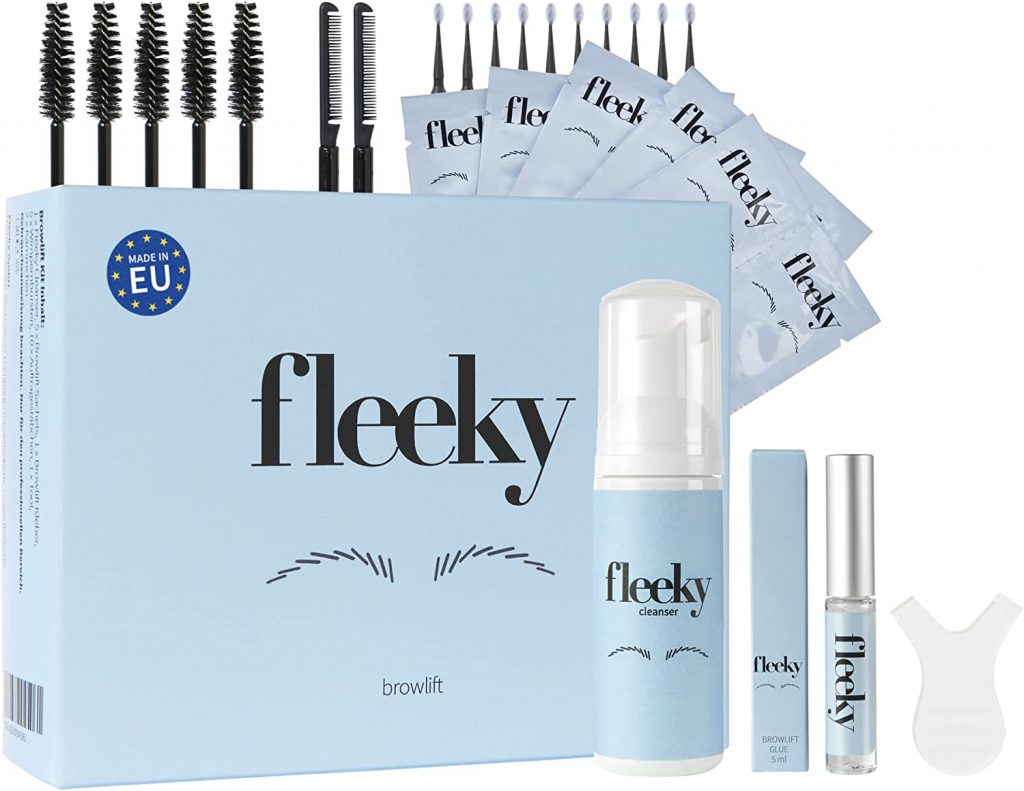 Where to buy it: in various beauty stores and online
Efficiency: 5-10 laminations; depends on the size of the kit
The lamination effect lasts 4 weeks
This is a professional, renowned, and recommended brow lamination kit. Is it ok for home use though? It's chosen by a lot of fans of DIY treatments because the smaller version with 5 sachets (for 5 treatments) is an interesting option to try… although in my opinion, the price isn't that great after all. You also have to be careful with the disposable sachets – each sachet lasts for two applications and must be used within 24 hours of opening. The truth is that no one does a brow lift on the second day after the first treatment. The instructions are also quite complicated. The cool thing is that the products are numbered. It's a professional brow lamination kit… in my opinion, not necessarily for home use, although from what I've noticed, it is quite popular… but I think it's better left to the professionals. The effect lasted ONLY 4 weeks on my eyebrows. Well, this is rather not a professional result. 🙂
Fleeky's kit for brow lamination at home – reviews
Well… The sachets did not work for me. It is also not that cheap brow lamination kit after all. It's not economical.
Eyebrow lamination Q&A – important questions concerning a DIY brow lift at home
Brow lamination price – how much does it all cost?
I've already mentioned that it's definitely more cost-effective to buy a kit that will last for several laminations and do the treatment yourself, rather than spending a lot on professional lamination at a beauty salon. A DIY brow lift kit pays for itself after the first treatment.
Eyebrow lamination – how long do the effects last?
It all depends on the kit, dear readers. A good brow lamination kit can give you beautiful brows for many weeks, often up to 1.5 months! The better the kit, the longer you can enjoy the effects, but it is worth remembering that a lot also depends on the condition of your eyebrows.
How to perform eyebrow lamination at home?
Dear friends, of course, everything depends on the kit, manufacturer, and products, but in general, brow lamination is performed similarly: that is, you apply special products one by one, keep them on the eyebrows for a certain amount of time – sometimes your must assess how long a product should stay on your eyebrows, so not every kit will be suitable for beginners. Then you give your brows your dream shape and set them in place. In the end, you wipe off all the products, and voila! Your eyebrows are ready!