Hello, Beautiful Creatures!
If you're reading this ranking, it means you are looking for a good eyebrow mascara. I know how hard it is to find a good beauty product using the trial and error method. But you don't have to worry! I decided to test a dozen eyebrow mascaras and choose a few best products. In my ranking, they were arranged from the best to the not-so-good mascaras. Check out which eyebrow mascara got the best rating in my product comparison and which cosmetic product is most recommended.
Is it worth it to style your eyebrows with mascara?
Before we move on to the product comparison, I want to tell you about why I actually love styling my eyebrows with mascara. Although choosing a product for eyebrow makeup is an individual matter, it is characteristic of an eyebrow mascara that it fits every person, regardless of what type of eyebrows they have. Eyebrow mascara beautifully emphasizes every little hair, gives it colour and expression, and its formula builds on the eyebrows, giving even weak, thin, fine eyebrows a chance to suddenly become impressive and expressive. Moreover, eyebrow mascara arranges and tames the hairs as well as keeps them in check. A good eyebrow mascara ensures the effect of great thickened and beautifully arranged hairs. Besides, you can combine it with other eyebrow products – it is great as the final stage of eyebrow makeup with a pomade, pencil or shadow.
A good eyebrow mascara is …
… exactly – which eyebrow mascara do I recommend? What does a good beauty product for eyebrow makeup look like, or what features should a good eyebrow mascara have? In my search for the best eyebrow mascara, I was quite picky and demanding. I considered many aspects, including:
+ price, capacity and efficiency of the product;
+ durability of the eyebrow mascara;
+ its colours, also in strong lighting;
+ formula (a good eyebrow mascara does not stick the hairs together at all);
+ brush – it should be precise, solidly made and accurate;
+ makeup effects – you will probably agree with me that effects are the most important aspect (the eyebrow mascara should simply ensure beautiful makeup).
Ranking of eyebrow mascaras
Dear girls, after many tests I finally managed to find my perfect eyebrow mascara. I must tell you that I needed a lot of time for it because I have actually tested MANY different eyebrow mascaras. However, I gave up on many of them right after the first use. Some mascaras had unsatisfactory quality, poor durability or strange shades. Therefore, my ranking of the best eyebrow mascaras presents only a few carefully selected products that I think are worth your attention. What are these products? Which eyebrow mascara is worth choosing? Check it out for yourself!
1: Nanobrow Shape Mascara
Capacity: 7 ml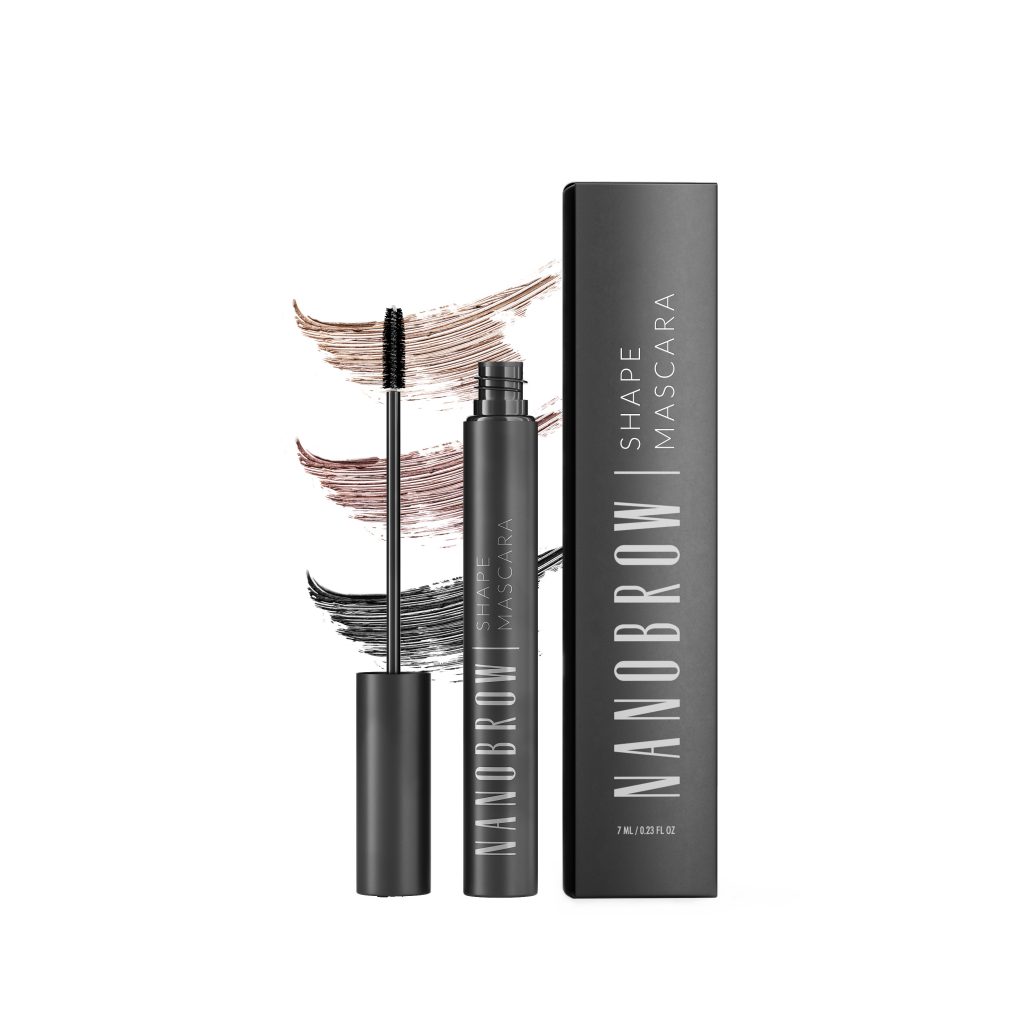 My number one pick is the eyebrow mascara by Nanobrow. I'm sure many of you have heard of it, as it is very often recommended and a popular choice. I bought it after reading the awesome reviews and I have to honestly tell you that none of the positive comments I read were over the top. I really love everything in this eyebrow mascara: from the perfectly shaped brush to the fantastic durability and great shades. The brush on this eyebrow mascara is unique, I haven't seen one like it anywhere else. It is very accurate and precise: you can style your eyebrows without any fear – it always doses the right amount of mascara and doesn't stick your hairs together at all. The eyebrow makeup with this mascara is particularly pleasant, you can do it quickly and always succeed. The eyebrow mascara from Nanobrow styles perfectly and grabs even the smallest hairs. Nanobrow Shape Mascara has beautiful and very natural colours, good durability and an attractive price in relation to such high quality. The effects are really delightful. The makeup always looks good and Nanobrow eyebrow mascara professionally builds the volume of each hair.
Nanobrow Shape Mascara – reviews and conclusion
1. It has a fantastic price and at the same time brilliant quality!
2. Its formula is perfectly designed so that the mascara styles arches beautifully without sticking the hairs.
3. Nanobrow Eyebrow Mascara has a particularly great brush.
4. It is long-lasting, so I am always sure that my makeup looks good.
5. I love Nanobrow Shape Mascara for its fantastic, natural and saturated colours.
6. It guarantees me an impressive effect of thick and expressive eyebrows.
7. You can buy it conveniently online!
2. Eyebrow Mascara BENEFIT Gimme Brow
Capacity: 3 g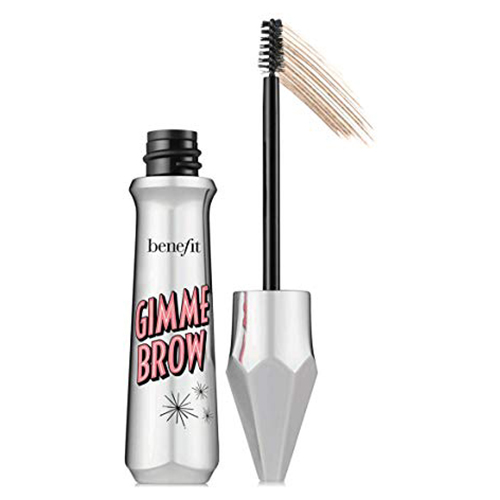 At the top of my ranking of eyebrow mascaras is a mascara that I used to love. It's possible that I included it in the product comparison mainly for sentiment because today I don't like the old traditional mascara brushes, and this mascara had a cone-shaped brush with widely spaced bristles that unfortunately collect too much mascara, which stick the hairs together. In the past, there were such mascara brushes on the market … After makeup, I always had to remove the excess eyebrow mascara tediously with a clean brush. Those were some strange times 😉 In general, this eyebrow mascara gave a really nice, intense effect. The colours were also great and the effect of thickening the eyebrows is owed to the special microfibers that build up on the hairs. The price of the eyebrow mascara is not particularly attractive – in this case, unfortunately, it is quite an expensive eyebrow mascara. However, the colour range is huge, because there are 10 shades … I had a problem finding the right shade in the beginning.
Benefit eyebrow mascara – reviews and conclusion
1. It has an interesting formula (microfibers in the content).
2. Eyebrows are thickened excellently well thanks to this mascara.
3. This is a long-lasting, waterproof eyebrow mascara.
4. It offers 10 colours – some shades are very similar, so sometimes it's hard to choose the right shade.
5. Unfortunately, the price is too high and the capacity is too small.
6. The brush can stick the hairs together.
3. Kiko Eyebrow Fibers Colored Mascara
Capacity: 4.2 ml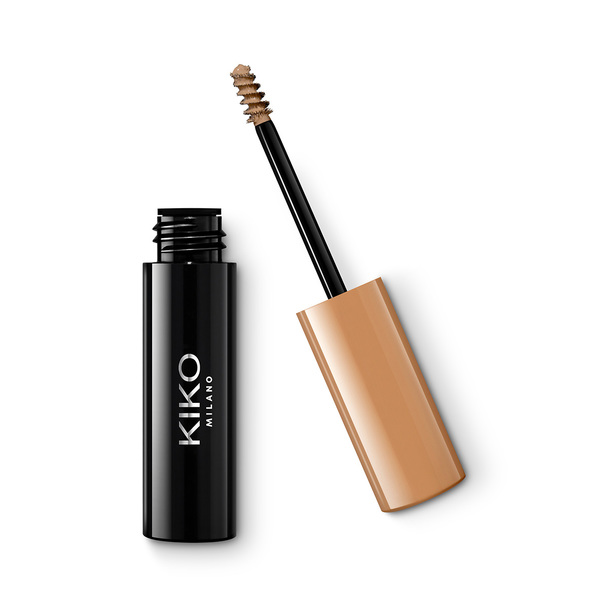 When it comes to building eyebrow volume and mascaras with fibres, this is apparently a pretty popular trend that does quite well in eyebrow makeup. This is another eyebrow mascara with fibres in my product comparison, which I can really call a great beauty product and recommend it to you. Maybe it is not the best eyebrow mascara, but certainly, it is an interesting option from the Italian cosmetic brand, which is known for good products. I also want to add that at the same time, this eyebrow mascara gives a pretty strong shine to the hairs.
Kiko Milano eyebrow mascara – reviews and conclusion
1. The formula is very great and contains microfibres.
2. Eyebrows gain a lot of volume.
3. It ensures really great makeup effects.
4. Its colours are quite beautiful.
5. Eyebrows get too much shine.
6. The price is too high and the capacity is too small, which makes the eyebrow mascara finish quickly.
4. Eyebrow mascara Lancome Sourcils Styler Brow
Capacity: 6.5 ml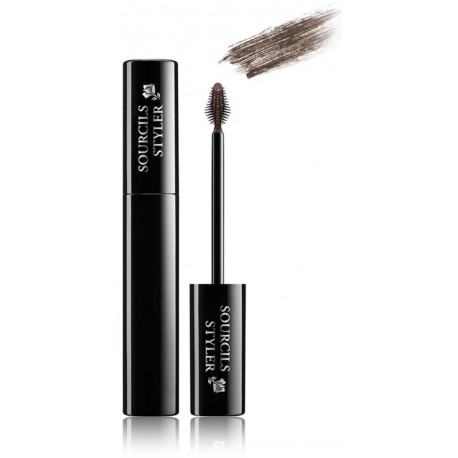 Large capacity, beautiful makeup, convenient brush and quite a good efficiency make for a beauty product a recommended eyebrow mascara appreciated by influencers. But does it guarantee stunning makeup effects? Surely, the makeup created with it looks very beautiful and elegant. However, you need to know that it is not a cheap eyebrow mascara. You may possibly find that it is just not worth that much money. Personally, I have to admit that I appreciate this eyebrow mascara for its brush. It is unique and I have managed to tame my unruly hairs with it in no time! It is a great beauty product if you don't have time for eyebrow makeup in the morning and just need to quickly comb your hairs or give them some colour. An interesting fact is that it is the only eyebrow mascara that made my ranking of the best eyebrow mascaras with a silicone brush.
Lancome eyebrow mascara – reviews and conclusion
1. The capacity is quite large, which is a huge advantage.
2. The spoolie brush is interesting – although it may not give too much volume, it really styles the hairs well.
3. Colours of eyebrow mascara are okay but there are only a few options for women with dark hairs.
4. Unfortunately, its price is definitely too high.
5. Eyebrow mascara Dior Diorshow On Set Brow
Capacity: 5 ml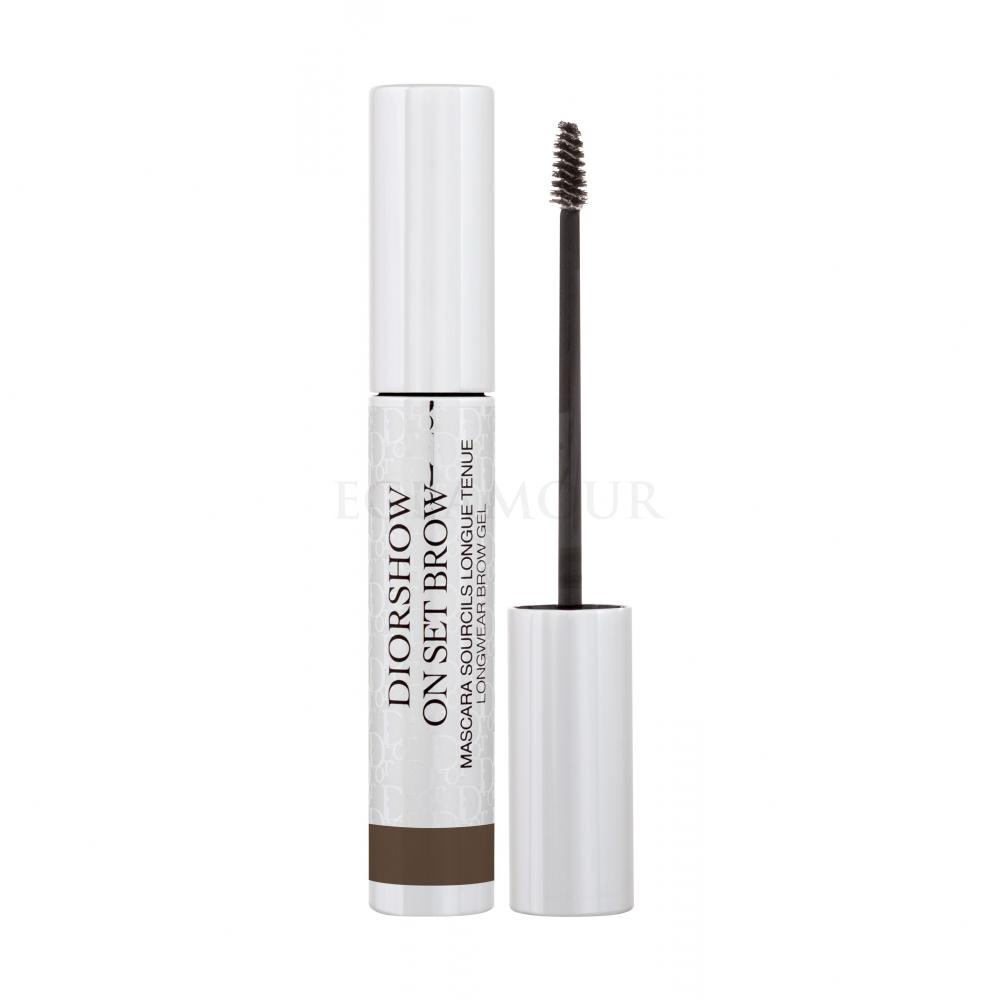 This is an eyebrow mascara that I really appreciate for its composition. In this makeup product, you will find up to 90% natural ingredients. But do we really have to pay such a high price for these ingredients? Especially since this eyebrow mascara has a slightly shorter shelf life… This fact surprised me a bit because this mascara is very prestigious. This product has a classic applicator, which today can be considered archaic but I think that this eyebrow mascara is probably about keeping it in its old, iconic version. This eyebrow mascara comes in 4 colours and a neutral, clear version that is basically not a mascara but more of a typical eyebrow gel.
Dior eyebrow mascara – reviews and conclusion
1. Eyebrow mascara contains many natural substances, including panthenol and biotin.
2. It styles and fixes eyebrows well.
3. It has a small capacity and is unfortunately not very efficient.
4. Its price is unfortunately too high.
Ranking of the best eyebrow mascaras – summary
My ranking ended with the last eyebrow mascara. Among the described products, is there a product that will become your best eyebrow mascara? Have you already chosen a mascara t that will have a permanent place in your cosmetic bag? Nanobrow Shape Mascara is the best eyebrow mascara in my product comparison. I think many of you are surprised that good eyebrow mascara doesn't have to cost a lot. What's also cool – while cosmetic products from world-class designers are of a pretty high standard, there are also products launched by such brands that only specialize in eyebrow cosmetics, like Nanobrow. In your opinion, is there any other interesting, recommendable eyebrow mascara that is worth testing and should be included in the ranking? Before you leave this page, I'll explain how to properly style your eyebrows with mascara.
How to use eyebrow mascaras?
Although it seems simple, you need to know that your appearance can be worsened by makeup if you act incompetently. Instead of beautifully accentuated eyebrows, you can end up with stuck-together, unsightly hairs. How should you use mascaras for eyebrow makeup? Ideally, use delicate and good eyebrow mascara with a well-designed brush, thanks to which you will avoid sticky hairs and a weighed-down look – yes, you can get such effects if you exaggerate your makeup. To avoid makeup mistakes, you should first comb your hairs with a clean brush to remove the foundation and powder. Then you can grab your eyebrow mascara and comb the hairs with the mascara brush – first downwards, then in the direction of growth or slightly upwards. Since my eyebrows are thin and I want to give them more volume, I wait until the eyebrow mascara (i.e. the first layer) has dried and apply a second layer of mascara to the eyebrows. Simple, right? So, dear girls, choose a good eyebrow mascara and get started! Good luck with your eyebrow makeup! <3